Autonomous shuttle buses, a mobility solution for rural areas
Reading time: 5 min
France's first rural self-driving shuttle bus dubbed Beti has started operating on a public road in the south-eastern Drôme department. The breakthrough offers a solution to transportation needs in rural areas.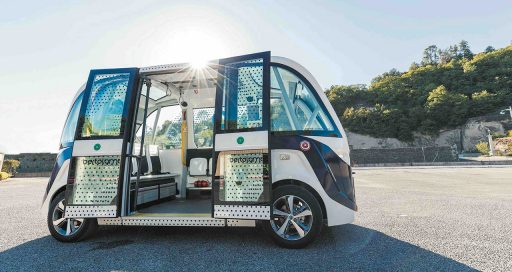 On 7 September 2020, an initial rural-based autonomous mobility test was launched in the Drôme department with the involvement of Eurovia. Beti, an autonomous shuttle bus supplied by Lyon start-up Navya and run by Drôme carrier Bertolami, provided a shuttle service for several months between the train station in Crest, a municipality with a population of 9,000, and the "Ecosite du Val de Drôme" in Eurre, a competitiveness cluster dedicated to organic farming. The project was run by the Région Auvergne-Rhône-Alpes, the authority in charge of organising public transport, and supported by the Drôme departmental council.
Covering a distance of 4.5km, the shuttle served 7 intermediate stops and provided a link between public amenities, shops and businesses in the area. It accommodated up to 10 seated passengers, accompanied by a safety operator. 
"The idea was to think outside the box. Many projects had already been rolled out across motorways and cities, but never in rural areas, which make up most of the road network. In the Drôme, with the support of local authorities, we found a playing field in which we could test out the autonomous shuttle bus," says Pauline Dalicier, innovation manager for Eurovia's specialised subsidiaries.
Tested in a variety of places, from La Défense in France and Montreal in Canada to Newcastle in Australia, driverless shuttle buses are now looking to the countryside, where public transport services are less well developed but where mobility needs are crucial. In France for example, the countryside accounts for 63% of the surface area and covers 22,500 of the country's 36,000 or so municipalities*. Without a car, people living in rural communities can struggle to access their workplace, as well as local shops and public services such as the town council, nurseries, cultural and sports centres, and so on. They see autonomous mobility as a promising development.
Specific constraints
Whereas in urban areas shuttles have fixed points to guide them, in rural areas they operate in environments that change with the season, depending on vegetation, ice, snow, etc. "Our role was to provide autonomous shuttle buses with fixed points by using road signs and markings that they can detect thanks to sensors." 
Little refurbishment work was necessary for the test, since only a 1km section of the 4.5km route travelled by the shuttle was adapted. "For the remaining part of the route, all that had to be done was upgrade the existing infrastructure. The test was a way to find specific and cost-effective solutions, suitable for sparsely populated areas," explains Dalicier.
Still, the expansion of self-driving shuttle buses remains dependent on their uptake by the general public. In addition to the technical studies being undertaken, questionnaires have been circulated among shuttle bus and road users in order to analyse the perception of the system. Partners involved in the project aim to transform the service offering in such a way that it takes account of the expectations formulated by users and local authorities.  
Longer distances and safety are key
The test will end after a period of 5 months in February 2021. Eurovia teams are already looking to follow up the project by improving shuttle speed and journey length. "The shuttle travels at an average speed of 17km/h and can reach a maximum speed of 25km/h. To provide a useful, effective service, the distance covered will need to be extended, requiring slightly higher speeds," notes Dalicier. However, ensuring the safety of passengers and other road users while delivering an efficient service remains the priority.  
This innovative and inexpensive infrastructure approach means that the future of self-driving shuttle buses in rural areas appears promising even if the service is still in its infancy. "The problems encountered – vegetation, dispersed housing – are similar from one area to another. Furthermore, the system delivers a new mobility service that is particularly well suited to vulnerable population groups like the elderly, people with disabilities and people struggling to find employment," she concludes.
*Rural areas are those with a population density of less than 300 inhabitants per square kilometre and which have a resident population of under 5,000.
11/02/2021