Cold chain: a strategic issue for the pharmaceutical industry
Reading time: 5 min
From production to transport and storage, cold chain management is an absolute priority for drug and vaccine manufacturers. In France and across Europe, VINCI Energies business units are applying their solutions to secure the cold chain.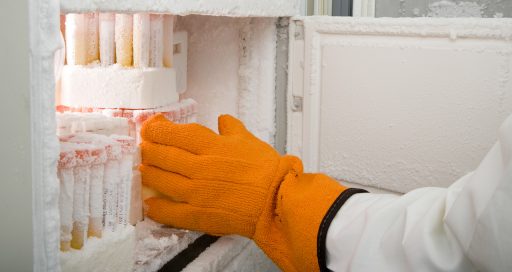 On 8 December 2020, the first injection of the Pfizer-BioNTech vaccine against Covid-19 was given to a 91-year-old British patient. That was just one of 800,000 doses being stored in a secret warehouse at a temperature of -70 °C. The vaccine, created jointly by the American manufacturer and a German startup, is a reminder of how crucial management of the entire cold chain (production, transport and storage) is to the pharmaceutical industry.
But, behind the headlines, says Michel Lecarpentier, Director of Cold Network Development at VINCI Energies, "Cold at very low temperatures is now straightforward down to -80 °C or even -100 °C. The problem isn't the technology, but having the financial capacity to implement it."
"The high quality of pharmaceutical products means that the cold chain must be guaranteed at all times"
The costs can be two or three times higher for ultra-low-temperature installations compared with standard cold storage. Michel Lecarpentier explains that "The additional cost is due to the design requirements, plus the specific class of climatic chamber installed, and of course, the higher energy consumption at these low temperatures."
Regulatory storage thresholds
The various types of drugs and vaccines require extremely precise and regulated storage thresholds: controlled temperature (below +25 °C), temperature-sensitive products (+2 °C to +8 °C), negative temperature (-20 °C to -40 °C) and ultra-low temperature (-70 °C and below).
"The high quality of pharmaceutical products means that the cold chain must be guaranteed at all times," explains the VINCI Energies expert. "That's why the cold storage facilities are all self-sufficient, with double or even triple redundancy to avoid failures. Temperature recorders are also installed, often equipped with an alarm system. It takes four to six visits per year to maintain this refrigeration equipment, compared with two to three as standard in the food industry."
Another unique feature of the pharmaceutical market is a highly demanding sanitary environment, often with a controlled atmosphere requiring sophisticated filtration systems and a restricted manufacturing environment. The various business units in VINCI Energies' Le Réseau Froid network are specialists in securing the cold chain, well versed in handling these elements.
Highly advanced expertise
In Belgium, Actemium Herentals has installed a system to monitor the freezers that will store the Covid-19 vaccine supply for Europe. Wireless sensors also monitor the vaccines' temperature while they are transported internally on dry ice in cooled container boxes.
Roderick Nijffels, Client Manager at Actemium Herentals, explains that "More than 1,300 wired sensors will be installed in the freezers, and 40 wireless sensors in the cooled containers, to monitor temperature in real time. The wireless sensors were tested in a Proof of Concept for use in a large warehouse filled with metal racks and freezers, with very positive results. Besides the vaccine storage, our EMS (Environmental Monitoring System) solution is also used to monitor temperature, pressure, humidity and particulates in the clean rooms where the drugs are manufactured."
Another pharmaceutical company entrusted Actemium with the creation in 2018, and expansion in 2020, of the IMS (Information Management System) monitoring solution for its vaccine freezer facility. The facility was enlarged with six containers in 2020 and will be expanded in 2021 with a 2,000-cubic-metre storage building at temperatures below -50 °C.
"We are currently [December 2020] testing new containers specially designed to store Covid vaccines, to connect them to the IMS system," says Henk Coolen, Project Engineer Automation at Actemium Herentals. "The storage building is under construction to be fully operational before April."
Long-term confidence
In France, CEF Industrie Picardie, a VINCI Energies Le Réseau Froid business unit, has been working in tandem with the Sanofi group for more than 15 years on the Compiègne site, where it handles preventative and curative maintenance of the water chillers, cold stores for raw materials and finished products, and climatic chambers for storing samples.
"Our relationship of confidence with Sanofi is based on our bespoke services," says Xavier Delattre, CEO of CEF Industrie Picardie. "In addition to our permanent maintenance provision, we offer an atypical service, with a mixed yearly visit where our own technicians attend together with the manufacturers of the machinery installed on site, who have perfect knowledge of how their equipment ages."
He continues, "This enables us to improve our predictive maintenance, while our teams acquire new knowledge. Alongside these maintenance projects, CEF also provides new equipment that combines energy efficiency with clean refrigeration fluids."
11/03/2021