Combined cycle power plants, a more flexible and less polluting solution
Reading time: 3 min
In France's western region of Brittany, Actemium is to refurbish the GRTgaz interconnection station in Prinquiau which will supply natural gas to an innovative power plant in Landivisiau, thus improving the performance of electricity generation facilities.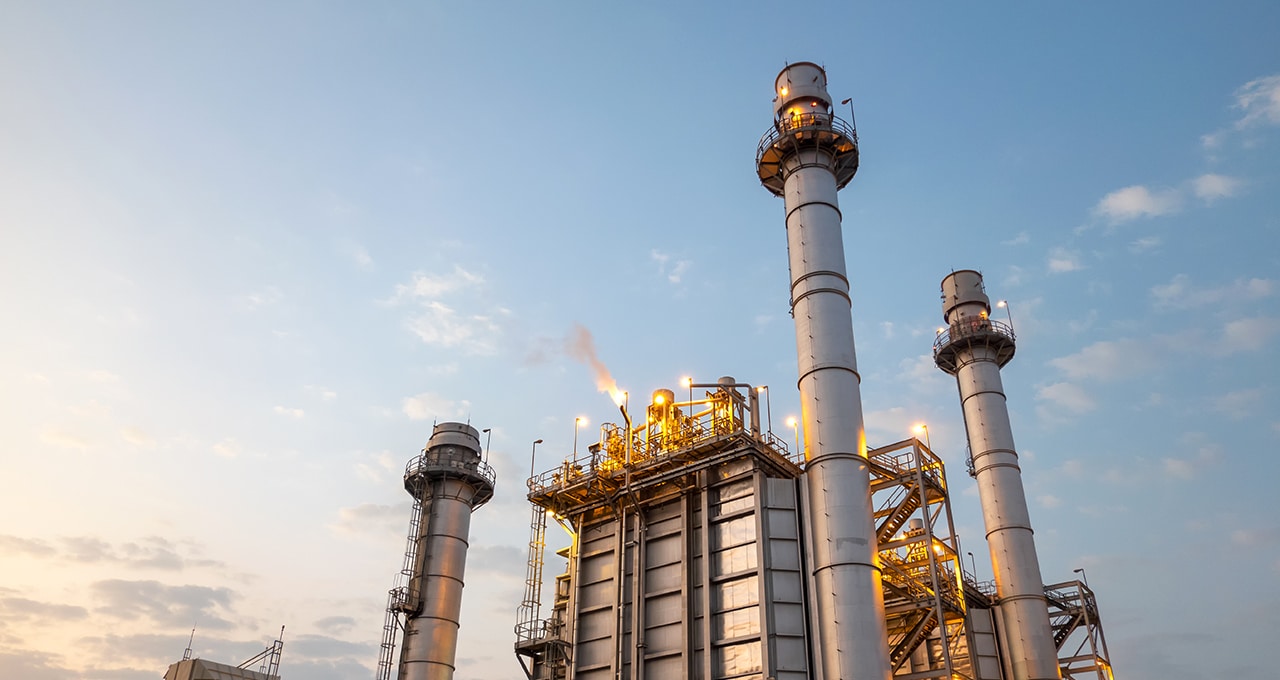 Gas-fired power plants, one of France's electricity generation sources (accounting for 8 % of EDF's total output at end 2018), have been equipped for several years now with an innovative technology that limits emissions and enhances production efficiency.
Traditionally, a gas-fired plant operates according to a simple principle: the fossil fuel is burned to create a pressurised gas, which drives a turbine connected to an alternator producing electricity. The exhaust gases from the turbine are released into the atmosphere.
In order to limit pollution while at the same time boosting plant performance, new types of facilities have been designed such as combined cycle gas turbines (CCGT). These work on the same principle as simple cycle gas turbines, but recover the heat from the exhaust gases to generate steam. This steam powers a second turbine/alternator unit, producing additional electricity.
Less CO2
These CCGT plants can achieve efficiencies of 60 % or more, compared with 35 % for a gas-fired turbine alone, which makes them very attractive. Moreover, they release up to half as much CO2 into the atmosphere for the same output.
Some such plants have already been set up in France, in particular in Dunkirk and Montoir-de-Bretagne. And others are currently under development, like the Landivisiau plant in the Finistère department in Brittany. This 450-MW combined cycle gas turbine will better satisfy local electricity demand and strengthen the network in southern Brittany.
Turnkey contract in Prinquiau
In order to contribute to its supply of natural gas, the company GRTgaz is to refurbish the Prinquiau interconnection station (in the Loire-Atlantique department) which dates from 1979. A gas pipeline will be built between the Prinquiau and Landivisiau plants.
Actemium, the VINCI Energies brand specialising in industrial performance, is responsible for the electrical aspects of the refurbishment as well as for instrumentation and control.
"Actemium is handling everything in this turnkey contract, from the detailed design, procurement, prefabrication of electrical cabinets, and execution on site to commissioning, which is due to take place in June 2021," says Constatin Batereau, manager of Actemium Paris Énergie & Environnement, the business unit in charge of managing the project. The works are being carried out by Actemium Saint-Nazaire as part of a partnership.
Fine-tuned production
"The works will help improve energy efficiency and reduce air emissions while securing the electricity system"
"The GRTgaz interconnection station in Prinquiau was not initially intended to supply a plant like Landivisiau," he points out. "The works across both sites will help improve energy efficiency and reduce air emissions while securing the electricity system."
Furthermore, the Landivisiau combined cycle plant will make it possible to fine-tune electricity production. The project meets a demand for improved flexibility and what is distinctive about CCGT plants is that they can be ramped up very quickly and can be stopped then restarted according to need. Traditional thermal power plants don't offer this kind of flexibility.
14/09/2020