Flexiplant adds agility to production lines
Reading time: 5 min
Actemium Saint Etienne Process Solutions has created an automatic, scalable turnkey solution designed to improve industrial performance on powder production sites for the construction sector.
In the face of a triple economic, energy and climate crisis, the industrial world, which is particularly energy intensive and emits large quantities of CO2, needs to review its business models. If only it were that simple… There are many barriers to transformation for industrial sites characterised by the structural unwieldiness of their facilities and the rigidity of their production cycles.
But neither is there any shortage of levers for action, whether technical or organisational. Adjusting selected production plans, for example, can be enough to improve economic and energy efficiency.
This is the challenge accepted by Actemium Saint Etienne Process Solutions, the VINCI Energies business unit specialising since 1991 in industrialising production processes using powder, granulate and paste products, primarily in the construction chemicals industry (glues, sealants, screeds, etc.).
In 2015, this business of 35 employees patented an innovative production line named Flexiplant that enables industrial powder storage, dosing, mixing and bagging sites to significantly improve their economic model and environmental impact.
Vertical or horizontal
As Nicolas Genevrier, Sales Engineer at Actemium Saint-Etienne Process Solutions, explains, "Currently, businesses with facilities for mixing highly formulated products have to choose between two types of production unit: horizontal or vertical, each of which presents advantages and disadvantages".
Vertical installations offer reliability and production capacity, plus reasonable operating costs and minimal maintenance. However, they require a costly initial investment and must meet the increasingly stringent administrative requirements of local planning schemes and seismic risk assessments.
A 25% lower initial investment for a 40% lower operating cost.
The issue is the size and mass of the metal structure supporting the raw material storage silos, which is generally 40 metres high. Another disadvantage of vertical systems is their lack of flexibility and scalability. Unless an expansion pathway has been included in the design and sizing phase, it is extremely difficult to add in extra loading silos, additive hoppers or new mixing lines.
Horizontal models require less investment, but operating costs are higher. Production capacities are lower and the risk of cross contamination is higher, particularly with pneumatic conveyor systems.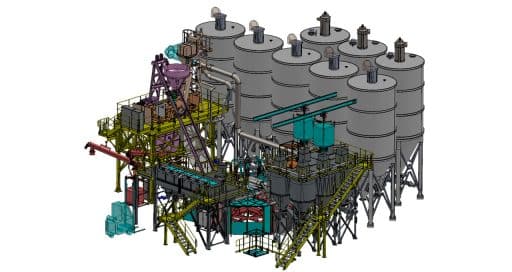 The best of both systems
With Flexiplant, Actemium Saint Etienne Process Solutions decided to take elements of both existing systems to combine the advantages of each while avoiding the disadvantages. The new system combines a horizontal process linked to a carousel that provides three simultaneous dosing stations for improved production capacity and a mechanical transport system using a skip conveyor*, thus reducing energy consumption and contamination between formulas.
The maximum height of the line varies from 9 to 12 metres depending on the application. The overall footprint of the line makes it easy to integrate into most existing storage facilities. It is also possible to add new modules or stations at any time without interrupting production, in order to expand or adapt equipment to meet changing production needs.
The system offers zero contamination, precise dosing and scalability – and much more, according to Actemium Saint Etienne Process Solutions. Nicolas Genevrier says, "The initial investment for Flexiplant is 25% lower than with a vertical structure. And operating costs are 40% lower than in a conventional horizontal structure. This economic benefit is largely due to a significant reduction in energy consumption – twenty times less than a horizontal system and five times less than a vertical model".
Patented in 2015, Flexiplant is now in use in France, Chile and Australia. It was also selected by Sika, one of the world's leading producers of construction chemicals, to create a second production site in Boisbriand, near Montreal, Canada.
"We do a large part of our business internationally, with contracts all over the world", says Nicolas Genevrier. "Flexiplant is part of this pattern of opening up. We are talking about turnkey projects worth €1.5 million to €5 million, and we think we can expect a dozen or so projects a year".
---
*A skip conveyor is an installation for lifting bulk loads, generally of heavy materials, using skips raised by a winch and emptied by gravity.
21/04/2023