How contactless digital is improving industrial processes
Reading time: 4 min
Axians has developed a contactless system to optimise logistics in the bulk goods industry. Named iDispo, this online portal provides end-to-end management of automated raw material loading.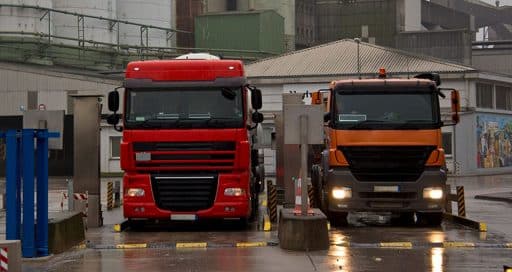 Contactless digital solutions can significantly improve industrial processes and their reliability. This technology is particularly opportune given the current pandemic. Axians IAS, a VINCI Energies business unit specialised in services and software solutions for industry, is demonstrating this with its iDispo (Internet Disposition) system.
"Today, which company you choose no longer depends solely on the product it sells, but also on the digital services it offers"
This online portal, designed for the bulk goods industry, enables the integration of third parties; for example, haulage contractors can use it to plan their truck movements, track delivery statuses and obtain the related documents online.
Made operational in February 2020 at the German cement manufacturer Phoenix Zementwerke, iDispo enables their customers to plan their schedules to reduce wait times, optimise the supply chain by preparing their trucks in advance, and plan loads according to the materials involved.
For the raw materials plant, the benefits arise from being better able to coordinate production and shipping, and identifying the best times to perform maintenance work. "The advantage of this online platform for the manufacturer is that they can delegate part of the work to their partners, who have access 24 hours a day, seven days a week," says Sabine Maier, Marketing Manager at Axians IAS in Germany.
Authentication number
When a delivery is created, in order to allow customer trucks access to the plant's terminals, the iDispo system sends them a TAN (Transaction Authentication Number) via an RFID card or QR code secured with a PIN code, or even a mobile device, which is, according to Sabine Maier, "The optimal solution in terms of both security and practicality." The driver can then sign in via the plant's automatic terminal with no involvement of on-site personnel. 
The economic benefits are obvious. Before installing this automated system, Phoenix Zementwerke were employing three teams working in rotation from 5 am to 8 pm to manage traffic flows.
The cement works now operates 24 hours a day, seven days a week with just one team during the day, who can also get on with other tasks. "Not to mention that a computer system doesn't make mistakes, unlike a human planner," adds Sabine Maier.
Improved customer experience
In addition to the undeniable financial benefits, "This system enables our customers to offer an optimised service to their haulage partners, and by extension, the partners' customers," says the Axians IAS manager.
She adds that this is a significant advantage because "Today, which company you choose no longer depends solely on the product it sells, but also on the digital services it offers."
A further, indirect advantage is that the rationalisation of truck flows – and consequent reduction in wait times – ensures "Reduced CO2 emissions, especially for the sector's largest production plants."
Implementing a system like iDispo requires the installation of a dedicated server and its SSL security certificate; photoelectric barriers; self-service terminals; and reliable, stable network coverage inside the plant.
But Axians IAS is mindful that simply installing the iDispo software is not enough. Training for users of this new tool and the ability to reconsider internal organisation are also essential.
"Our experts have sufficiently advanced knowledge of the sectors concerned to establish and execute a programme like this in the best way, taking full account of the market: in growth periods, they optimise flows; in a downturn, they work on the costs," Sabine Maier explains.
Phoenix Zementwerke is not the only manufacturer with confidence in the iDispo system. The Heidelberg Cement group has adopted this type of platform for its cement plants and aggregate plants in several countries, including Germany and the Netherlands.
Its subsidiary Norcem has done the same for its sites in Norway. The Franco-Swiss company LafargeHolcim in the Philippines and the Yamama Cement Company in Saudi Arabia, among others, have also adopted this system.
15/06/2021