Innovating to comply with new occupational health protocols
Reading time: 6 min
Augmented safety helmet, hands-free temperature scanner, alarm badge… The companies that make up VINCI Energies have demonstrated their ability to innovate and find solutions at short notice, allowing operations to continue safely despite the Covid-19 pandemic.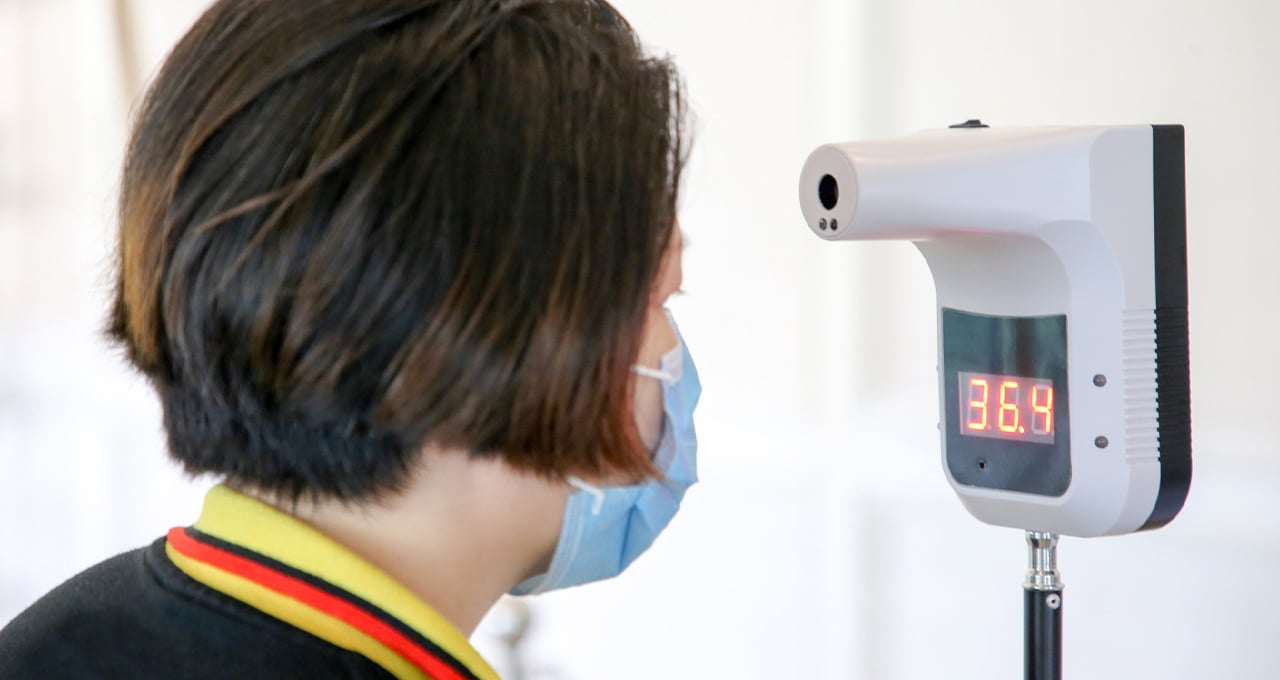 The global health crisis that has been hobbling the planet for many months has led to a radical change in working habits across shops, offices and factories. A number of innovative projects have been developed to make workplaces safer, in an effort to fight the risk of Covid-19 transmission. There is no shortage of ideas. Here are a couple of examples from VINCI Energies in Switzerland and the United Kingdom.
With a surface area of approximately 100,000 sq. metres, the uptownBasel site in Arlesheim on the outskirts of Basel is the largest construction site in north-western Switzerland. Work on this high-profile project, which will see the construction of a skills centre for Industry 4.0, has continued despite the Covid-19 pandemic.
"Our devices have attracted attention outside our company and some of our customers have expressed an interest in deploying them on their own premises."
Unlike a number of other countries including France, Switzerland did not shut down construction in the first stages of the crisis. "The Federal Council, however, required worksites to enforce strict measures, including maintaining a minimum distance of 2 m from others, and performed frequent checks," explains Nicolas Muller, manager of the Actemium Automation & Industrial IT business unit.
It was precisely to address the issue of worksite safety in a global health crisis that this VINCI Energies subsidiary, specialising in industrial process optimisation, was approached by its sister company Axians.
At the beginning of April 2020, Axians, which is responsible for the ICT aspects of the Basel project, was commissioned by the project owner to find a solution that would ensure compliance with hygiene rules and safe working conditions.
Embedded safety-helmet system
Although sanitation facilities had been expanded, additional break areas carved out and more coffee and vending machines installed, more needed to be done, since, when concentrating on their tasks, site staff often run the risk of inadvertently breaking the new guidelines, especially physical distancing.
In the space of 48 hours, working in collaboration with Axians, Actemium developed a prototype for a system that is designed to help better protect crews working onsite.
"The system, which is based on a combination of Bluetooth and UWB (Ultra-Wide Band) technologies, is attached to workers' safety helmets and monitors the distance between two devices, in other words two workers, and beeps or vibrates as soon as they come within 2 metres of each other (the distance can be configured via a mobile app)", explains Muller.
A simple and effective tool
UptownBasel was won over by the idea and agreed to develop it. The co-innovation group even decided to make use of it to communicate about its building project, which is a true showcase for new technology and collaborative working. A video on the new device was produced by uptownBasel staff and broadcast on Swiss television.
The prototype was refined with the help of Alsatian start-up Insolem, an embedded system specialist which developed a specially designed circuit board; production was then scaled up and the device is now ready for mass production.
"Sharing the video on the VINCI Energies internal Yammer network helped gather further momentum. Since then, we have been contacted by about 50 clients who want to use the detectors on their own sites," points out Muller.
Nicolas Muller also underscores that this new system can in no way "track" users. It does, however, collect anonymised data pertaining to interactions between people, and can display statistics as a dashboard.  "It's purely a way of reminding them to follow the distancing rule, in line with other smart safety initiatives promoting simplicity and agility taken by the Group," he concludes.
Safer office space
Among these initiatives, the Cougar Automation invention is particularly innovative. The British subsidiary of VINCI Energies, which specialises in automation services and systems integration, has created a hands-free temperature scanner and a portable employee pass equipped with an embedded alarm system. The latter alerts the wearer when they get closer than the permitted physical-distancing requirement or when an area has met its maximum capacity.
"We wanted to provide our staff with a safe and flexible office space and avoid maximum disruption during these difficult times," explain Cougar Automation's Patrick Gains, Project Manager, and Simon Pape, Business Development Manager.
The badge alarm system uses BLE (Bluetooth Low Energy) and UWB (Ultra-Wide Band) technologies. The temperature scanner captures and analyses a thermal image of a person's face taken from more than 1,000 measurement points. "The device displays a green or red light depending on your temperature and tells you whether you are allowed enter the office or need to go home to self-isolate and get tested for Covid-19," explains Patrick Gains. The sensor's rapid analysis capabilities – it can read the temperature of up to 700 people per hour – make it a simple, reliable tool that can perform quick temperature scans as people enter a building.
Testing under way at other firms
Cougar Automation has been using both systems in-house for its 50 employees since the end of September 2020 and plans to include them in the range of COVID security devices it offers its customers. "These two devices have attracted attention outside our company, as some of our clients have expressed an interest in deploying them on their own premises to better protect their staff. A number of companies have used the distancing badges and are currently testing small batches for deployment in their organisations," says Patrick Gains.
17/12/2020