Innovative technology seeks to improve safety of elderly in nursing homes
Reading time: 4 min
Designed by a pool of companies working in partnership with VINCI Energies, smart headboards are a reliable solution to help minimise response times to an elderly person's fall.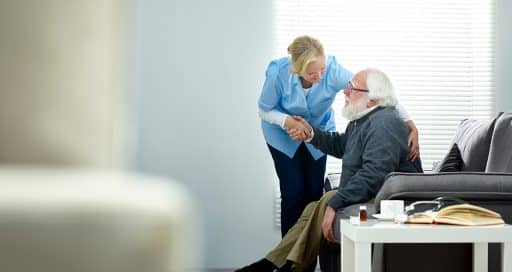 Health facilities are a target market for the development of digital applications. Keen to improve patient comfort and safety, make life easier for caregivers and enhance the quality of relationships with families, they see digital technologies as an overall performance guarantee of the services they provide.
Nursing homes fall into this category. With the average age of residents rising each year – it currently stands at 85 – such homes need to adapt to the illnesses of increasingly fragile patients. As a result, one of their priorities is to do as much as possible to prevent falls, which often have a detrimental effect on the health of their residents.
Today, most of the digital developments in the world of care homes for the elderly involve equipment worn by the residents themselves in the form of wristbands or pendants. While these devices are useful, they're far from being perfect. Not only is wearing certain wristbands incompatible with some illnesses, but these portable sensors, which react to acceleration, are rarely capable of detecting "soft" falls for example where an elderly person slides from their chair. And yet these are the most frequent types of falls.
A new service
Cegelec 3S, a VINCI Energies business unit, recently developed a brand-new service that makes it possible to detect the slightest fall in any part of the resident's room. The system involves a fixed sensor, mounted high up in a smart headboard.
Equipped with an infrared filter, the device registers every movement in the room, night and day. In the event of abnormal behaviour, in other words a fall, it immediately sends an alert to the digital devices (smartphone, tablet or computer) of caregivers or supervisory staff. A registration system is used to analyse the fall so as to inform staff of the best way to deal with it.
"The system isn't intrusive," says Sylvain Massin, project manager at Cegelec 3S.
"The sensor only registers movement if there's a fall and there's no video image.
The playback only shows a 3D shape using dots of light, so it's totally anonymous."
Agile solution
The headboard, comprising three modular panels which the bed slots into, is designed to incorporate related functionalities that meet client needs: fall detector, reading lamp, smart lighting, light therapy lamp, USB socket, phone charging system, floor path lights, etc. These features can be controlled manually from any digital interface (tablet or smartphone) or even via voice commands, with voice recognition apps like Alexa.
"We purposely designed our solution with room and equipment refurbishment in mind. [It] can be adapted to all types of configurations."
"We purposely designed our solution with room and equipment refurbishment in mind. So, this three-panel system can be adapted to all types of configurations, and installation only takes half a day per room, thus ensuring continuity of service in the facility (daily care for patients, doctor's rounds, etc.)," explains Massin.
Four-way cooperation
The service, which Cegelec 3S is starting to market, is the result of cooperation between several partner companies. Normandy-based company Maé Agencement designed the prefabricated panels. Legrand delivered wireless electrical solutions that save residents from having to manually reach controls installed behind or above their heads. Toulouse startup Orme Signals & Images added its expertise in fall detection, with digital sensors providing a 3D representation. And lastly, Cegelec 3S is responsible for integrating all of the technologies, then delivering and installing the smart headboards in nursing homes.
20/02/2020