Saclay is designing the production plant of the future
Reading time: 3 min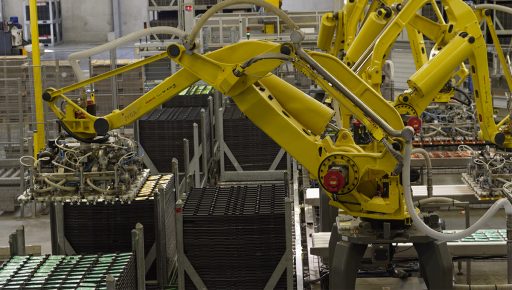 At CEA List premises, the Factory Lab is testing the implementation of the latest technology innovations at production sites.
Increasingly, automation is enabling cobots (from collaborative robots) to assist humans in carrying out a variety of tasks. Is this something out of science fiction? No. At the Factory Lab, at the premises of the French atomic and alternative energy agency's systems and technology integration laboratory (CEA List) in Saclay, cobots are no longer the stuff of speculation.
In fact, they are among the technology advances selected by industry professionals who have gathered to build demonstrators, in collaboration with partners, that will apply new solutions to manufacturing processes.
Accordingly, Actemium, the VINCI Energies brand dedicated to designing and implementing industry solutions and a founding member of the Factory Lab, will be working on new mobile parts-handling solutions to assist operators.
Proof of concept
The Factory Lab, which was launched on September 28, 2016, is a business hub that brings together industry leaders such as VINCI Energies with Actemium (a brand dedicated to industrial processes), Safran, DCNS, PSA, and Dassault Systèmes 3DS, institutions, such as CEA List, Cetim, and Arts et Métiers ParisTech, and, SMBs and startups that provide innovative solutions.
In less than 12 months, the startups, with support from CEA List, must provide the digital and material building blocks to deliver the proof of concept for a solution that meets stated industry needs. A total of €40 million has been allocated to the Factory Lab to undertake about 20 projects a year.
Participating industry professionals outlined four issues: flexible digital production plants; cognitive assistance technology for operators (an area in which advanced experiments in augmented reality have been carried out); physical assistance for operators; and process and control automation.
Actemium is particularly interested in the last two topics. This year, the company has been conducting two key projects, including human-robot mobile handling within a manufacturing plant's horizontal space and robotic screwdriving operations featuring multiple types of screws within a single operation with result-monitoring capability. "One of the main issues regarding robotic screwdriving is traceability," states Sylvain Reumeau, a director at VINCI Energies. Once a project's feasibility has been demonstrated through experiments carried out in conjunction with the SMBs and startups, industry professionals can implement the technology innovation on their own production lines or "As in the case of Actemium," Sylvain Reumeau points out, address their clients' specifications through totally innovative, tried-and-tested solutions as part of collaborative projects.
15/12/2016