Petrobras relies on maintenance to optimise its oil production platforms in Brazil
Reading time: 5 min
Actemium has been working in partnership with Petróleo Brasileiro S.A. since 2013 to maintain several offshore platforms in the Campos Basin. This highly complex, quality work helps increase the service life of maritime units and optimise oil production.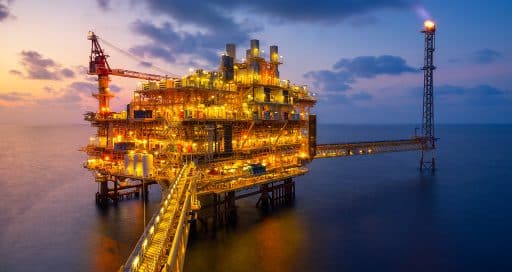 Intended to extract oil and gas from the seabed for a 25-year period, the Petrobras P-55 and P-62 oil platforms located near the Brazilian coast will be able to operate for an extra 10 years, while at the same time increasing their production. This is the result of a policy implemented by the Brazilian company, aimed at providing quality maintenance for its facilities to increase their lifecycle. It also enhances their production capacity, estimated at 180,000 BOE (barrels of oil equivalent) per day.
The services performed on the two offshore platforms provide a benchmark for industrial strategies focusing on production base performance and team safety
This optimised industrial performance is possible thanks to the partnership with Actemium (VINCI Energies), which has been responsible since 2013 for the maintenance of several offshore platforms, including P-55 and P-62. Indeed, Actemium is leading the way in delivering an industrial strategy that focuses on production base performance and team safety. The stakes are high given that the oil industry accounts for 13 % of Brazil's GDP and that state-run company Petrobras alone is responsible for the production of 93 % of the country's crude and gas.
100 km off the northern coast of Rio
Anchored at sea in the Campos Basin, around 100 km off the coast of Rio de Janeiro, platforms P-55 and P-62 are operated in extreme conditions due to the aggressive marine environment involving corrosion, ocean currents, and strong winds. They extract the black gold from a pre-salt field where drilling is difficult. The term "pre-salt" comes from the fact that the field is located in the earth's crust, beneath layers of salt, at a depth of over 3,000 m. Pre-salt deposits represent a vast oil and gas reserve, totalling some 50 billion barrels.
Failures caused by the deterioration of equipment on these technology-packed floating factories can result in significant operating losses and potentially very serious accidents in the event of gas leaks, for example.
It is precisely in order to prevent these risks and ensure the integrity of offshore platforms that Petrobras set up Proef, a programme to increase the operational efficiency of the Campos Basin. The maintenance campaigns assigned to Actemium form part of the programme. "In recent years, the increase in production efficiency has led to an increase in production," says Samuel Ferreira, business unit manager at Actemium Óleo & Gás. This goes to show how important maintenance is.
Handling excellence
As part of its preventive maintenance programme, which aims to keep the facilities in perfect working order, Actemium replaces pipes and structures before they reach the end of their lifecycle and upgrades the coating of some 72,000 m2 surfaces. During an upgrade campaign, crews handle and assemble more than 560 tonnes of steel structures.
To carry out such a large-scale project during shutdowns, around 300 employees are mobilised on each platform. Two "floating hotels" are commissioned to house the personnel for the duration of these intense maintenance campaigns. The "flotels", or maintenance and service units, are connected to the platform by a gangway. They not only offer maintenance technicians bed and board, but also include mechanical and electrical supply stores, workshops, cranes, warehouses, and an industrial painting area.
Maintenance and service units are particularly useful during phases that require production shutdown. Teams work in shifts, night and day for a two-week period so as to minimise the impact of the shutdown, servicing critical structures and equipment. During these campaigns, on-board staff operate with clockwork precision to meet the time, excellence, and safety requirements involved in an offshore environment.
Onshore support
Offshore maintenance crews are supported on the mainland by the Macaé/RJ site, located on the coast to the north-east of Rio, where Actemium produces the tailor-made steel structures and pipes for the platforms. "More than 1,500 tonnes of structures and pipes have left the site without us recording a single accident," says the manager, emphasising the importance of safety for Actemium, which boasts "the best score achieved in this area by Petrobras service providers." "Safety is paramount for our business unit," he concludes. When industrial efficiency meets team safety.
16/01/2020