Robots introduced to wine cellars
Reading time: 3 min
A well-known winery in Bordeaux has appointed Actemium to install four autonomous mobile robots in its new wine-making unit. The aim of this automated vatting system, unprecedented in the world, is to transfer the grapes to vats with unparalleled reliability and accuracy.
Seeing machinery among vines has become commonplace in large vineyards. But it is far less usual to come across robots in wine cellars. In 2022 a large Bordeaux château in south-western France equipped its new wine-making unit with four KUKA autonomous mobile robots (AMRs) to transfer the grapes to vats.
After the destemming and optical sorting stages, the fruit is delivered by a belt conveyer system to mobile containers mounted on robots, which then navigate towards the vats for unloading. "We transposed automation and monitoring technology, which already exists in the automotive, steel and pharmaceutical industries, to the wine-growing environment," says Stéphane Angevin, automation design manager at Actemium Bordeaux Process.
"Our aim is to replicate the solution and make it available to other companies in the sector."
Selected for the project following an invitation to tender in 2021, this VINCI Energies business unit adapted technology used in industrial environments to a wine cellar. This involved meeting several requirements specific to wine-making activity. For instance, the 2m by 0.80m robots must be able to move freely along the main paths and manoeuvre around the vats. In order to avoid the risk of stops and deviations, the ground must not have any holes of more than 5mm or bumps of more than 3mm. Gradients of more than 3° are not permitted, which presents an additional challenge when cellars are regularly washed down and require slopes for drainage.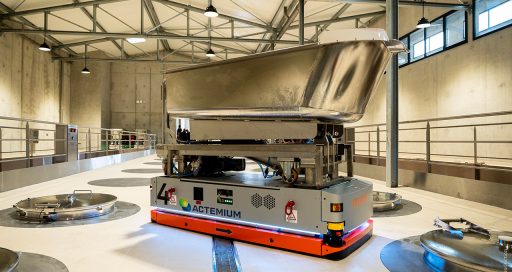 Expanding an abandoned market
The automated system was tested for the first time in real-world conditions during the three weeks of grape harvesting in the summer of 2022. This enabled Actemium Bordeaux Process teams to identify several areas for improvement based on factors difficult to anticipate before the actual production phase, including the grape profile and adjustment of the container height so as to optimise unloading.
"As far as I'm aware, this is the first initiative of its kind in the wine-growing world," highlights Stéphane Angevin. "Our aim of course is to replicate this solution and make it available to other companies in the sector, either for vatting activities or for transporting wine barrels or boxes, and for handling heavy loads."
The wine cellar automation market offers real potential. Firstly in terms of productivity since the four containers installed by Actemium Bordeaux Process can transport 10 tonnes of grapes per hour. Robots also guarantee reliability. A digital mapping system of the premises is recorded by the robots, which navigate using laser scanners towards vats previously selected by the cellar master in order to discharge the grapes with centimetre-level accuracy.
However, the main advantage of the system is that it improves safety and reduces strenuous work for operators: less heavy loads (or none at all) means less risk of musculoskeletal disorders and accidents.
16/06/2023