Sweden: leading the way in low-carbon mobility infrastructure
Reading time: 4 min
Located on an island in the Baltic, Smartroad Gotland is a road capable of charging electric vehicle batteries via induction as they travel along it. Eitech Electro, a VINCI Energies business unit, is a stakeholder in the experiment.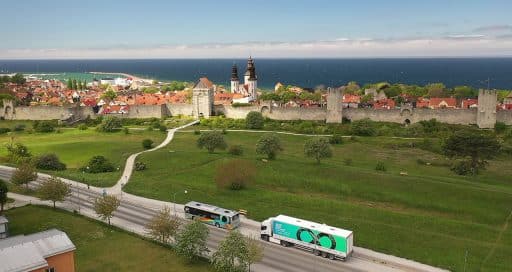 In Sweden, an electric bus is travelling along a new kind of road. Named Smartroad Gotland, this unique 1.6-kilometre stretch of road on the idyllic Gotland island, an eco-municipality in the middle of the Baltic Sea, is equipped with wireless electric charging technology based on induction.
Thanks to copper coils positioned beneath the road surface, it can transfer energy to a receiver fitted to any kind of electric vehicle – car, truck or bus. This technology allows recharging while driving and makes the infrastructure smart, activating only as the vehicle passes. The vehicle's position is detected metre by metre, with each section switching on or off in a few milliseconds. People or animals crossing the road therefore are not at risk of exposure to electromagnetic fields.
Developed by the Israeli company Electreon, the solution is especially beneficial for long-haul trucks, which can dispense with heavy, expensive batteries, and no longer need to stop to recharge.
Four experiments
Operating from autumn 2020 to spring 2022, the project is financed by the Swedish transport administration (Trafikverket). To reduce the proportion of its carbon gas emissions from road transport (30%), Sweden plans to build around 2,000 km of induction roads at a total estimated cost of €3 billion.
Sweden plans to build around 2,000 km of induction roads at a total estimated cost of €3 billion. 
Smartroad Gotland is one of four experiments based on this technology currently under way in Sweden, ahead of a larger-scale rollout on a pilot section in Örebro-Hallsberg.
Eitech Electro (VINCI Energies) was charged with installing and commissioning the Electreon system for this avant-garde project.
"We implemented the system and adapted it to local regulations in Sweden (cabling sizes, switchgears and distribution boards, etc.), from design right through to construction," explains Tomas Lindsbro, Business Unit Manager at Eitech Electro.
"We installed the entire system, plus the equipment supplied by Electreon, such as the management units and the coils underneath the road. We were also responsible for commissioning," he adds.
This system, which three to five Eitech Electro people worked on as needed, is not only at the technological cutting edge, but also has the advantage of being sustainable. With routine maintenance, the coils and all the equipment should have an effective life of around 40 years. 
Germany: a project for inductive charging while driving
On 28 January 2021, the Federal Highway Research Institute in Germany awarded funding to the VINCI Group subsidiary Eurovia Teerbau and its partners – Volkswagen, Omexom GA Süd (VINCI Energies) and the Technical University of Braunschweig – in support of their eCharge research project. Its aim is to develop a contactless inductive charging system to recharge electric vehicles while driving. If the project proves successful, the plan is to build 25-kilometre "ecorridors" at regular intervals on motorways. The project team also hopes to research possible billing processes and economic operating models. Other initiatives aiming to develop this technology are the European INCIT-EV project and the InductInfra research project at RWTH Aachen university.
16/09/2021