When 3D modelling optimises assembly line design
Reading time: 4 min
Animated spatial visualisation of a connected assembly line design is a valuable verification and decision-making tool for manufacturers. Actemium is developing a prototype that offers this capability.
Modelling a project in 3D before it is built is common practice in architecture and building maintenance. In the manufacturing industry too, 3D can be used to visualise a future asset or product. Or even a future automated production line! This very challenge has been taken up by an Actemium team, which is seeking to push the boundaries by designing a dynamic line layout in 3D with the latest Industry 4.0 technologies.
"3D serves to refine the design, support decision-making and ultimately build a consolidated set of specifications by reducing the risk of errors."
"Our goal is not to compete in the field of virtual representations of a promising future but, more specifically, to provide manufacturers and their service providers with a highly efficient tool for developing concept designs and specifications," says Thomas Hoffmann, business development director at Actemium, the VINCI Energies industrial transformation brand.
Intelligent bin picking
The prototype of this modelling includes an intelligent bin picking station, in which a robot recognises different items thanks a combination of 3D cameras and a database. The items required for the next operation are sent to the assembly station on a conveyor belt. A humanoid robot then performs the assembly with a separate item in each "hand". 
Following the automated packaging stage, the items are transferred to the palletising station, not on a conveyor belt this time but by means of an autonomous mobile robot, capable of stopping in front of an obstacle or navigating around it if necessary.
"This method illustrates the interconnection of robots, which communicate with IoT sensors, and shortly indoor 5G, to connect assets without latency. It can also demonstrate how maintenance is performed with augmented reality, a technique used at various points along the assembly line," states Frédéric Boulvert, commercial manager at Actemium Rennes. By positioning virtual technicians at specific stations, manufacturers may realise that they don't have enough space to move and, based on this observation, the assembly line ergonomics can be refined.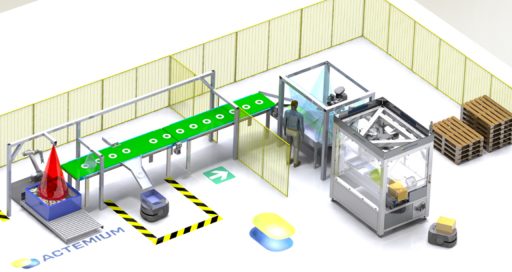 Less risk, more flexibility
The benefit of dynamic 3D modelling with integrated 4.0 tools is that it allows manufacturers, when designing their assembly line, to see their planned assets in operation virtually and to respond accordingly. Actemium can then alter the virtual system, if necessary, in cooperation with the client. "This ongoing dialogue on the 3D line model serves to refine the design, support decision-making and ultimately build a consolidated set of specifications by reducing the risk of errors," points out Thomas Hoffmann.
Moreover, modelling offers manufacturers a further guarantee of flexibility. In an age of product customisation, it's important to be able to adapt assembly line objectives quickly and easily. Similarly, optimising the line with 3D vision provides real-time insights into the status of the various pieces of equipment, enabling preventative action to be taken before production gets under way. 
"All manufacturing sectors, whether aerospace, logistics, distribution, drive-in business, food or fresh produce packaging, can benefit from a 3D model simulation of an advanced production/assembly line," stresses Hoffmann. "It is an investment, but it significantly reduces risks."
17/05/2021