Digital technology optimises production lines
Reading time: 3 min
Many industrial undertakings are discovering the benefits of collaborative simulation solutions, particularly as applied to logistics.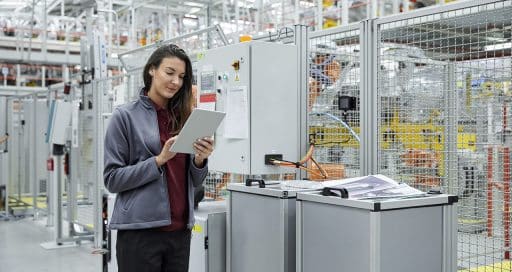 A number of specialised simulation tools, including AnyLogic, 3DEXPERIENCE, ProModel, FlexSim, Witness, SIMPROCESS, AutoMod, and Plant Simulation, hold new potential for industrial operators.
These solutions can substantially optimise a production line both upstream and downstream. They create a virtual model of a facility based on actual data and then use it to analyse a variety of issues including efficiency, capacity, flows, bottlenecks, costs, and scope for optimisation.
"The first benefit of this type of digital platform is better risk management," says Actemium Branch Manager Xavier Devolder. "Simulation conducts trials in a safe environment to detect problems before they occur."
"These industrial simulation software solutions offer invaluable decision support"
These solutions also facilitate quantified comparison of possible alternatives – the use of new machines, for example – again without affecting current production. "These tools offer invaluable decision support by providing a better understanding of the process," says Xavier Devolder. He sees them as a way to maximise return on investment.
Flexibility and power
Actemium, the VINCI Energies brand specialising in industrial processes, uses Plant Simulation, the tool developed by Siemens. "This solution, which we use for our customers, is sufficiently flexible and powerful to cover complex logistics issues," says Xavier Devolder.
In 2019, Actemium carried out a simulation for its customer Latexco, a supplier of bedding products. "The experiment involved designing a new automated warehouse within stringent space and budget requirements," he says.
The algorithm developed via Plant Simulation needed to integrate a large number of features specific to Latexco's business activity, including the mattress handling process, different product sizes, palette positioning, and flow rates.
"Prior collection of information and data is crucial to the success of this type of simulation. We must therefore work closely and uninterruptedly together with the customer," says Xavier Devolder.
The experiment carried out for Latexco over a period equivalent to one year's operation showed, among other things, that an average of 25 of the 120 available palette spaces in the virtual warehouse were not used.
"The customer therefore knows ahead of time that his existing logistics system has the additional capacity needed to accommodate a future increase in production," says Xavier Devolder. The simulation proved compelling for the Latexco company, which plans to open the new-generation warehouse in 2021.
16/01/2020