How the digital twin optimises warehouse logistics
Reading time: 5 min
The digital twin principle: simulate, analyse and optimise a process virtually in 3D and then implement it in the real world. The agile approach developed by Axians is applicable in the logistics and storage sectors.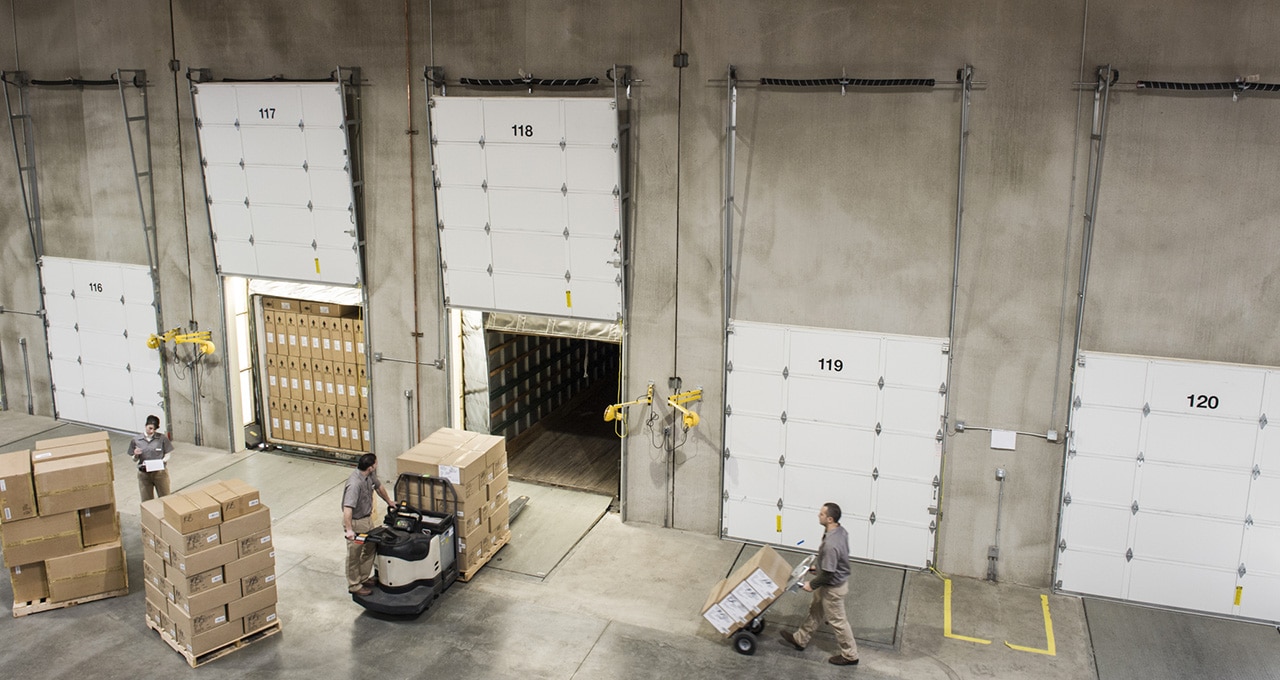 There is nothing simpler or more rational than a warehouse – or so it would appear at first glance. It contains regular shelving placed at right angles, separated by straight aisles in which fork lift trucks carry pallets of goods. And yet, say the managers of these logistics hubs that have become today's large warehouses, it is difficult to efficiently organise product storage and order picking operations.
How can warehouse operation be optimised? There are a large number of interconnecting parameters. The choice of route to be taken by an employee depends on a number of variables. The route cannot be defined by distance and travel time alone, because for example the weight of the load, which changes from one order to the next, and the way the products are stacked on the pallet must also be factored in. But they are a lot of factors that influence the optimal route.
Uncertain forecasts
Collection time can of course be reduced by handling orders for products stored in the same area in a single trip. Combining orders gains time and cuts costs. In addition, algorithms provide route advice based on the optimal pick sequence. This concept works similar to a navigation system, where the fastest route is calculated based on parameters (crowds, addresses to be visited, means of transport, etc.) "Travel by employees within the warehouse accounts is one of the largest cost items," says Max van Kasteren, client manager at Axians, the VINCI Energies ICT brand, which has developed expertise in these issues.
In addition to route optimization, it is also possible to predict how many employees will be needed. But it isn't always easy to predict the number of employees to assign to transport on a day-to-day basis. "If there are not enough people, it may be necessary to hire additional personnel at the last minute; but if there are too many, people will be paid to do nothing," he says. It is therefore not surprising that one of the main requests put in by warehouse managers relates to this issue.
Big data for better coordination
The use of the new digital technologies is a good way to help solve these warehouse management issues. The watchword is: Data. "By collecting and processing data, we are able to factor in the full range of parameters," says Max van Kasteren. "Data analysis can prompt managers to change the parameters, for example by reconfiguring the warehouse space."
"Digital twins clarify the changes to be introduced to optimise the logistics process and save even more costs."
It may, for example, be better to avoid positioning shelving at right angles, and instead use the "flying-V" (a reference to the famous Gibson guitar of that name) or "fishbone" configuration to shorten order picking trips.
"But changing the way the racks are arranged will impact the optimum position of each product," says the Axians client manager. "This will force managers to re-visit all the other parameters. It is therefore better to test the changes under consideration by introducing a simulation phase using a digital warehouse twin."
"A highly intuitive solution"
In the case of a warehouse, the digital twin, a technique that is used for example in building construction and maintenance, not only provides a 3D snapshot of the premises at a given point in time, but also projects the situation in the building in the following hours. This makes it possible to virtually test changes and holistically observe their impact before implementing them in the real world.
"This is a very intuitive solution for managers," says Max van Kasteren, "because they can display each route and give their opinion on ways to improve it." For the Axians client manager, who advises and supports companies on these issues, "Digital twins make it possible to clearly explain why a change is efficient and effective. They clarify the changes to be introduced to optimise the logistics process and save even more costs."
17/12/2020