In Germany, BIM and CMMS join forces on PPPs
Reading time: 5 min
VINCI Facilities teams in Germany have developed a pilot project combining BIM and CMMS for a shared maintenance equipment framework. This initiative will ultimately be rolled out to other public-private partnership projects.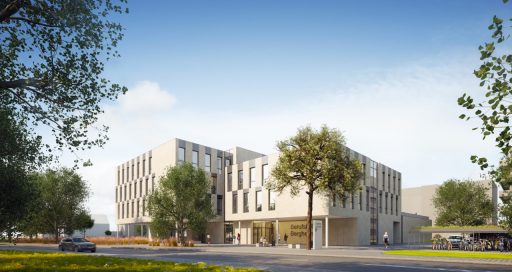 The new vocational college in Bergheim, near Cologne in Germany, opened its doors for the new school year in 2019. This new establishment stands out for its high degree of modularity. In line with the school's educational philosophy, the space can be flexibly adapted to meet educational needs. Learning and teaching rooms are linked with communal activity and leisure areas to form clearly identifiable units. 
This project is the result of a public-private partnership (PPP). In late 2017, the Rhein-Erft district, of which Bergheim is the capital, entrusted VINCI Facilities Solutions with the turnkey construction and technical maintenance of a new building and a sports hall. The combination of BIM (building information modelling) and CMMS (computerised maintenance management system) is key to the design, construction and monitoring of this project.
"We see PPPs as a laboratory. Their longer-term budgets make it easier for us to implement this type of digital approach."
Integrating BIM data into CMMS enables the organisation, recording and improved control of facility management operations. Another advantage in the long term is that this enables switching from a prevention/cure approach to predictive maintenance for buildings.
Shared digital framework 
To complete this pilot project successfully, VINCI Facilities teams in Germany and VINCI Energies Systèmes d'Information (VESI) used the VINCI Energies in-house solution: TwinOps, a BIM FM (facility management) program designed to ensure a reference framework in a heterogeneous system.
This online platform twinned with BIM makes it possible to connect a wide variety of external data sources (BIM sensors, CMMS(1), BMS(2), BOS(3), IoT via the available API) and to merge them into a shared reference framework. Via its 3D interface, the tool provides project managers with easy, real-time access to construction data (operating data history, material references, field surveys, task monitoring, etc.).
As Moonjin Choi, BIM Project Manager at VINCI Facilities Solutions explains, "The added value of TwinOps compared with existing solutions is that it can combine every information source and speed up decision making by offering a friendlier and more intuitive work environment. This tool also provides customers with a transparent, real-time dashboard that gives them a highly detailed overview of the services they are paying for." 
Modelled and integrated system
On the Bergheim site, the 3D modelling of the building, which was initially designed during the project's development phase, provided an excellent basis for integrating the HVAC (heating, ventilation and air conditioning) system.
"Connecting the BIM to C4S (Cloud for Service) via TwinOps took five months of work. A version has been available since July 2020," says Moonjin Choi, who is looking ahead to "new, more advanced functionalities that will enable two-way data exchange between the BIM and C4S-based CMMS provided by VINCI Energies Systèmes d'Information."
This modelled and integrated system makes it possible to benefit from BIM throughout every phase in the life cycle of a building (planning, construction and installation management). "Extending the benefits of BIM beyond the construction phase creates valuable synergies," adds Moonjin Choi. "Providing the project with a digital twin that is fully usable for facilities management ensures that the benefits of the digital approach to planning and construction are not lost after the project is completed."
Scalable expertise
The experience gained in Bergheim must be utilised on other PPPs, beginning with some 15 primary and secondary school buildings in Cologne.
"We also expect to apply this digital approach in the town of Velbert, also in North Rhein-Westphalia, on a brand-new project to renovate a multi-use hall by 2023, which is worth €46 million with a 25-year maintenance contract worth €30 million," says Bernard Jean, CEO of VINCI Energies Facilities Solutions, who also hopes eventually to replicate this model on older VINCI Energies projects throughout Germany. 
"We see PPPs as a laboratory," says Bernard Jean. "Their longer-term budgets make it easier for us to implement this type of digital approach. By refining our experience and increasing our economic performance, we already have the ability to use these new products on other types of contract, such as the FM+ projects we launched recently, which have an average operating duration of around 10 to 15 years."
(1) Computerised maintenance management system
(2) Building management system
(3) Building operating system
11/03/2021