Making trains even safer through technology
Reading time: 3 min
In Italy, Axians took part in a project to improve safety and offer new services to passengers through an innovative ground-to-train data communications system.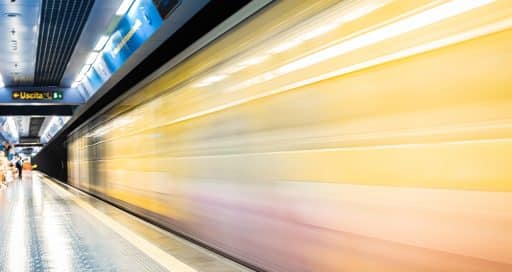 With a trial launched in the Naples region of Italy in 2018 and completed in summer 2021, the Treno Sicuro (Safe Train) project presages the train of the future: connected, intelligent and safe. Campania's transport company EAV (Ente Autonomo Volturno) trialled communications infrastructure installed in a prototype train and along a 4 km stretch through the San Giorgio-Volla tunnel.
Equipped with new Wi‑Fi technologies, the system provides reliable broadband connectivity, even when the train is moving. The aim is to ensure greater safety for customers, and improved monitoring of data, images and train position, but also more efficient in-train services.
In collaboration with internet networking equipment specialist Cisco, Axians (through its Italian Business Unit of Transportation Rail and Road) was chosen for this project because of its expertise in installing cutting-edge network architecture and infrastructure on difficult-to-access sites in the transport sector, and underground networks in particular.
"A model for a new form of rail mobility: safe and packed with new functionality"
The VINCI Energies ICT brand configured and installed the equipment, created the cabling, and coordinated all procurement and project management activities.
Antonio Francesca, Operation Manager PA Center-South & Transportation Rail and Road at Axians Italy explains: "The type of Cisco application we're using enables ground-to-train data communications in real-world traffic situations with negligible data packet loss."
Traditionally, to maintain active communication, the train's communication system has to connect to different antennas. Switching from one to another sometimes causes the signal to drop. Thanks to Cisco's Fluidmesh technology, the train communicates continuously without any interruptions due to switching antennas." The train therefore benefits from wireless network coverage as well as wired connectivity through access points along the track.
Improving safety, operations and services
This trial enabled EAV and its partners to test new services and enhance existing ones. In terms of passenger and personnel safety, interaction with the police is improved (video surveillance, VoIP for passenger announcements and emergency calls, virtual police officer for remote security checks, etc.).
Signalling and internal processes are also enhanced (train positions, passenger flows, etc.). Lastly, services are improved for users, and tourists in particular (public Wi‑Fi, advertising and information customised according to the train's location, etc.).
New communication and collaboration tools were also trialled for EAV employees who need to communicate with central office for operational purposes.
Antonio Francesca adds, "These improvements were made possible thanks to a DCS (data communications system) capable of transmitting broadband data between different on-board systems (video surveillance, VoIP connectivity, communication of train position data, Wi‑Fi for the passengers, etc.) and the central command post."
To achieve this result, Axians had to overcome numerous obstacles, beginning with installation and cabling compliant with modern safety standards in a train more than 10 years old. But the experience showed Treno Sicuro to be a model for a new form of rail mobility: safe and packed with new functionality.
12/05/2022