Voice technology, still seeking a way into the business environment
Reading time: 5 min
Voice assistants, a popular consumer product, have so far been little used in business environments. Yet already, a number of industrial and service sector activities are beginning to test the new human-machine communication interface.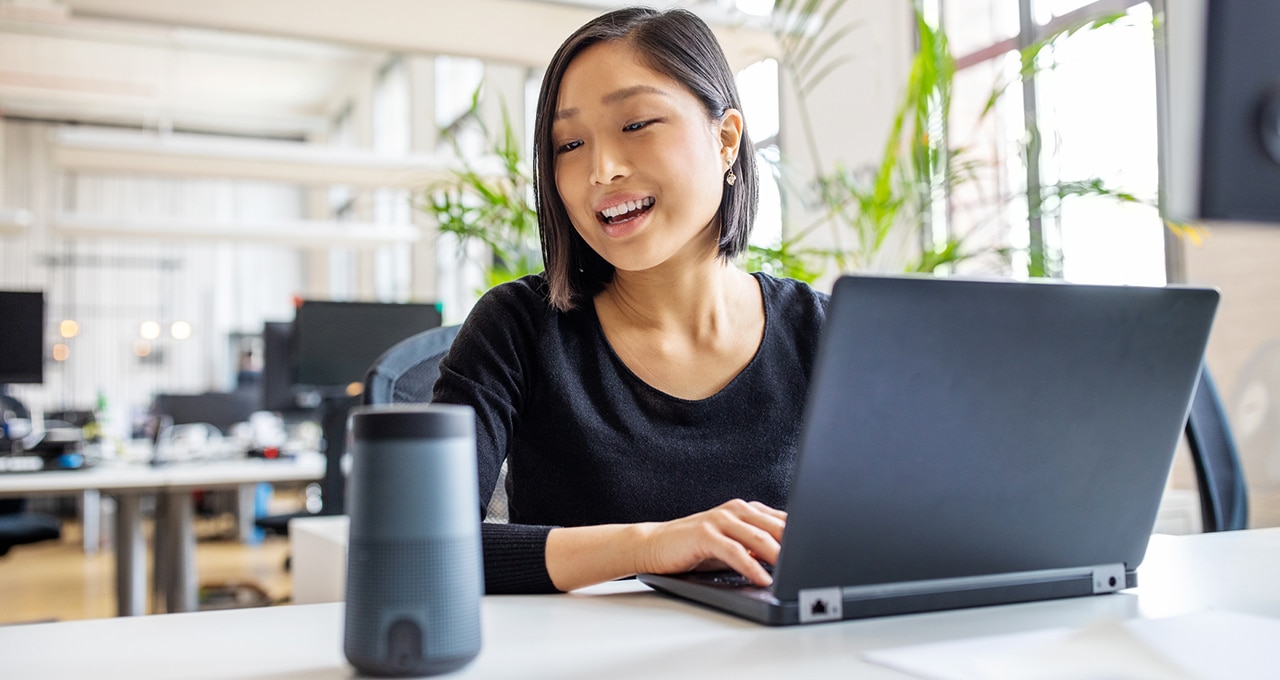 Although Alexa, the voice assistant sold by Amazon, has so far been available only via Echo speakers, now in the United States, the huge American market leader has introduced a new range of Bluetooth accessories that enable people to talk to their voice assistant via connected earphones, rings, and glasses. The development reflects the success of the new human-machine interface introduced in 2011 with Siri in the Apple iPhone.
For the time being, the main use to which voice technology is put in industrial environments is to help maintenance technicians
Connected speakers (Amazon Echo, Google Home, Apple Home Pod) have been sold in the United States since 2014 (when Echo was introduced) and in France for the past two years. There are currently an estimated 114 million such speakers in operation around the world, and specialist consulting firms expect strong growth over the coming five years. In the United States, one household in four already has a connected speaker. And in France there are now 3.2 million such devices, up from 1.7 million in 2018 (according to the Médiamétrie institute), and between 16 and 20 million voice assistants via smartphone (according to the Roland Berger consulting firm).
Noise and security issues
But in the work environment, it is still highly unusual for people to use a voice assistant. In some settings, such as factories, workshops and open-plan offices, ambient noise can prevent the devices from fully understanding voice instructions. In others, security of voice communications sent to the cloud, where algorithms process the data to provide answers or initiate action, can also be a concern. Such issues have prevented massive rollout of the technology in the B2B environment. The fact that Google and Amazon recently admitted that conversations via their speakers were being listened to, including by human operators, has heightened the concern.
To avoid having to rely on the GAFA companies for voice solutions, some 30 French public (research laboratories) and private (such as Snips and Kwalys) stakeholders have set up Le Voice Lab "to enable the French and European voice ecosystem to compete worldwide and to deliver an alternative to the existing range by offering high-performance IPAs and voice services."
Voice technology attracts but also causes concern
Apart from technical and security issues, there is also cost. Installing a voice solution in a business setting costs an estimated €300,000 and one year of development work if it is carried out in-house, €70,000 and six months if provided by an agency, and €40,000 and two months if provided by a software publisher and its network of experts, says Hicham Tahiri, CEO of Smartly.ai.
Despite these limitations, business solutions are beginning to appear, primarily in customer service and e-commerce voicebots (chatbots using voice rather than written communication) but also in workshops and factories.
According to a study by the Pindrop company involving 500 heads of companies and IT managers, 85 % of companies will have introduced voice technology to communicate with their customers by the end of 2019. But 85 % of them also believe that their customers' fear of data abuse will slow the introduction of the technology.
This ambivalence is inherent in voice technology, which simultaneously attracts and causes concern. Conversational solutions are increasingly provided by companies such as startup Vivoka in eastern France, which offers software, and also Zac, a physical voice assistant for the hospitality industry. In June of this year, the company announced that it was opening the world's first voice technology marketplace, Voice Market, to help companies sort out the wide range of chatbot and other voice solutions now available.
Voice-controlled robots?
Simsoft Industry, a company in southern France, has developed Vogof, a smart voice assistant, and Spix for "technicians working in Industry 4.0".
For the time being, the main use to which voice technology is put in industrial environments is to assist maintenance technicians, for example those working on a power distribution grid. An American startup, iT SpeeX, has also developed a voice assistant to control machine tools.
But before industrial robot lines can be controlled by voice, regulations will have to change, since the ISO standards do not yet cover the technology. Work will also be needed to demonstrate to operators that the new interface actually facilitates their work, and to train operators in vocabulary learning techniques to ensure that the voice assistant understands their requests.
12/12/2019