Welcome to Battery as a Service
Reading time: 4 min
Swapping electric vehicle batteries is emerging as an alternative to conventional recharging. In January 2022, the Chinese car maker NIO launched its first European battery swap station for electric vehicles. Omexom Norway helped them design the electrical infrastructure with due consideration of the location's unique weather conditions.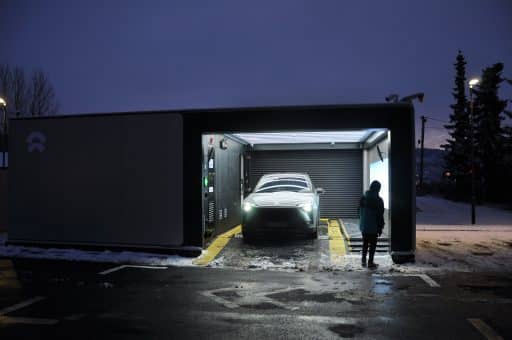 Insufficient numbers of charging points and long charging times are frequently cited barriers to adopting an electric vehicle. According to a recent Ipsos study for VINCI Autoroutes, 56% of French workers want faster charging times. Has NIO found the solution? In mid-January 2022, the Chinese car maker launched its first European battery swap station for electric vehicles near Oslo in Norway. Named NIO Power Swap Station 2.0, this so-called second-generation station is fully automated.
The electric car owner simply has to push a button on their vehicle's touchscreen and a mechanism retrieves the battery from under the floor and replaces it with a pre-charged pack of equal or greater range (see video). The process lasts about 5 minutes, considering the time needed to place the car right. Once the car is put in place, it takes around 3 minutes. With a storage capacity of 13 batteries, "Swap Station 2.0" automatically inspects the battery and electrical system during each swap, reassuring the driver that they have an "up-to-date" battery that will not lose performance over the coming months. This year Omexom will help NIO out with four more stations. This new PSS will have heating cable underneath the station in the concrete, to help out with snow, ice and regulate the temperature.
Battery rental
Owners taking up this Battery as a Service (BaaS) offer pay less for their electric vehicle, but are charged a monthly subscription for battery rental. The French manufacturer Zeway offers the same battery swap concept with its electric scooters. The idea was previously considered by Tesla before it decided on its own network of superchargers.
But NIO is sure of its ambition. Already a leader in China's niche battery swap market with more than 800 stations across the country, the car maker plans to install 4,000 worldwide, including 1,000 outside China by the end of 2025. To boost sales of its new electric SUV (ES8), the Chinese brand plans to open 20 swap stations in Norway this year, before moving into Sweden, Denmark and Germany.
Three minutes to retrieve the empty battery and replace it with a pre-charged pack
Heating cables
For its European debut, NIO called on the expertise of Omexom Norway, which had previously worked on developing direct current (DC) chargers for Tesla and alternating current (AC) chargers for the city of Oslo. The expert VINCI Energies brand, a leader in energy transition, designed and implemented the electrical infrastructure and installed the station itself.
Omexom drew up 3D plans to help NIO design and site the station. Once the site had been chosen, Omexom carried out the studies required for the electrical cabling. It also provided the electrical distribution cabinet, plus foundations and steel plates suitable for power cabinets and superchargers. "We encountered a few problems with the soft clay under the swap station", recalls project manager Martin Haagensen Strøm. "The ground had to be reinforced."
The project also had to take account of Norway's unique weather conditions. "We recommended anti-frost protection plates and special insulation. Heating cables were laid in the ground so that the parking bay markers would not be covered by snow."
Omexom also installed a heat pump and fans under the station to help regulate the batteries' temperature. To capitalise on this effort, Omexom is working with NIO to devise a standardised solution for Nordic countries.
16/06/2022