How IKEA is stepping up its digital transformation
Reading time: 6 min
As a symbol of big box retail, the Swedish furniture giant wants to harness e‑commerce to become more efficient and agile. Ikea has therefore been committed to a radical digital transformation incorporating cloud computing since 2018 – but the Covid-19 crisis incited them to step it up.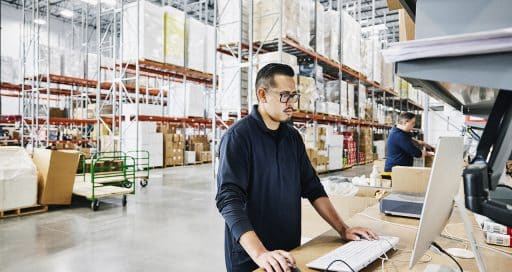 Ikea is pursuing a large-scale transformation. In May 2021, the Swedish furniture giant announced that it was building a vast warehouse spanning 72,000 m2 on a 16 ha site located near the port of Limay-Porcheville in the Yvelines department in France for an investment of €120 million. This future distribution centre, set for commissioning in 2026, will mostly be dedicated to online sales.
This major initiative is part of a strategy adopted by the Group in 2018 that focuses on online commerce. "Digitisation is creating new possibilities for the retail sector. We wanted to harness those possibilities in order to bolster our relationship with our customers, while continuing to offer them the best experience possible," explained Tolga Öncü, Retail Operations Manager for Ikea, in an interview with Le Monde when this strategy was announced.
That new strategy involved fundamentally transforming the Group using new technologies. "Using digital tools, we have access to all of Ikea in a smaller space – [all while providing] continuity between physical stores and the online offering in various formats, with the possibility of receiving personalised advice," he added.
"Digitisation creates new possibilities for the retail sector. We wanted to harness those possibilities to bolster our relationship with our customers"
New tools, new channels
Ikea brought its famous catalogue to an end in 2021, symbolising its shift to digital. After 70 years, the brand's paper brochures – up to 200 million copies of which were printed every year, in 32 languages for over 50 countries – were discontinued. The Covid-19 crisis stepped up the decision, which was initially planned for 2022 or 2023.
The money saved will be invested in other channels and tools, especially digital ones – like the 2020 acquisition of Geomagical Labs, a specialised provider of 3D imaging. The US-based start-up's augmented reality solution can be used to create a 3D representation of a room, "delete" the existing furniture and virtually add new pieces. The tool will be integrated into the Ikea website and its various applications.
A wave of acquisitions have taken place with the rollout of Ikea's new strategy, including that of Geomagical Labs. "Ikea has invested over $200 million in the acquisition of 23 companies, in order to both contribute to the sector and realise the company's long-term vision. Ikea wants to step up this strategy in the future," said Barbara Martin Coppola, Chief Digital Officer at Ikea, in a Tech Crunch article.
The accelerator effect of Covid
The health crisis spurred the furniture giant on. Like many other businesses, the Group had to close its shops during lockdown periods and was therefore more driven than ever to boost its online presence in order to reach consumers daily through digitised services. As a result, although the brand saw its revenue drop by 7% in 2020, the French subsidiary's online sales jumped by 44%, four times greater than in 2017, reaching 15.4% of its total revenue.
It's a radical change to the business model. "Imagine Black Friday levels of e‑commerce orders every day! We have more than doubled the volume of Ikea's online sales in very little time," said Barbara Martin Coppola at the EMEA Retail Summit, organised by Google Cloud in October 2020.
Centring the cloud
The cloud is a central tool in Ikea's digital transformation. Ikea's Chief Digital Officer said, "We transformed our current technological infrastructure, converted our closed shops into order processing centres and activated contactless click and collect services – all while boosting capacity to manage significant volumes of web traffic and online orders. Thanks to cloud technology, we have established data models to help our colleagues by creating more effective selection processes, which has enhanced our customer experience."
But Ikea aims to go even further and even faster by developing a multi-channel strategy with its physical shops, including those located in city centres, to offer a more comprehensive phygital experience by way of a rise in click and collect services and home deliveries.
The brand is therefore working to deploy new digital tools, such as the "Shop and Go" payment service or a geolocation system for in-store products using augmented reality. "We are currently working on how to best fulfil our customers' needs with recommendations made using AI, as well as chatbots for simpler customer service and 3D visualisation design tools to photograph furniture in the most realistic way possible," said Barbara Martin Coppola.
Establishing a foothold in urban centres
The shakeup of Ikea's model is also illustrated by its actions to get closer to customers. Although historically located in city outskirts, the Group has, in the last three years, embarked on a strategy to develop urban centres in order to adapt to consumers' changing lifestyles. The Group has invested almost €6 billion towards this objective over the 2018-2021 period.
The opening of an Ikea shop in the Madeleine neighbourhood of Paris in 2019 symbolises this movement – and that location could benefit from the new logistics warehouse at Limay-Porcheville in the Yvelines department. This future site will not only speed up deliveries to customers in the Paris area, but also improve the restocking of the shops in and around the capital, with some goods transported by river for example; a way of combining the digital transformation with the environmental transition.
18/02/2022