Could London be the best smart city?
Reading time: 7 min
The British capital is launching multiple projects to offer its inhabitants a more fluid and sustainable life, and is currently considered one of the world's "best smart cities".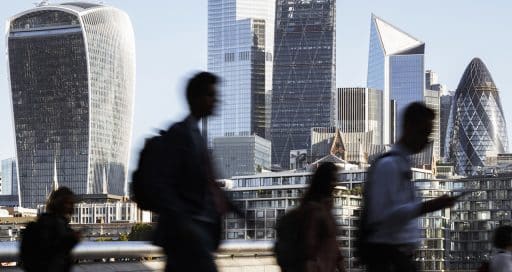 According to the latest edition of the IESE Cities in Motion Index, published in 2021, London is the best smart city in the world. Certainly, the British capital has spared no effort in recent years in rolling out innovative technologies. Since 2013, the Smart London Board has been advising the Mayor's office on the implementation of new digital technologies as part of its "Smarter London Together" programme.
The challenge lies in the scale of the undertaking: with a population set to reach 10 million by 2030 across a 1,500 km2 urban area (more than 14 times the area of Paris), Greater London's public services will have to address a number of problems, particularly in the areas of health and transport.
Connectivity target
In 2017, to equip itself to meet these new challenges, the Mayor's office launched the "Connected London" programme to provide 5G connectivity to the entire city, with free Wi-Fi access in public buildings and city streets. London is making use of Transport for London (TfL) transport network infrastructure to implement the "Connected London Full Fibre Network", an optical fibre network to connect 400 km of underground tunnels, 580 km of roads and 80,000 items of street furniture.
With 10 million inhabitants by 2030, London is turning to innovative technologies to address the problems it will have to overcome.
According to City Hall, among other things, this policy should enable small and medium businesses to improve productivity by seven to ten points, and allow property owners to enhance the value of their assets (according to a report from property site Rightmove, properties lacking access to superfast broadband lose 20% of their value). In fact, demand is increasing rapidly: The British telecoms regulator, Ofcom, estimates that the number of connected devices will increase twelvefold between now and 2026, and that mobile data usage will increase by over 30% year-on-year.
Data central to the model
Data is key to London's strategy, as illustrated by the creation of the London Datastore. This tool offers every Londoner, but also the developer community, free access to all information and statistics relating to the city.
Other applications include: a new data service for shopping streets with the "High Streets for All" programme, modelling for new school sites, identification of brownfield land, population growth projections, air quality measurements, etc.
On environmental issues too, London is relying heavily on data. As part of the "Energy for Londoners" programme, secure management of the city's energy data is helping decision-makers to identify where and how to prioritise different types of investment in green infrastructure across the capital.
The Queen Elizabeth Olympic Park pilot project in Stratford, Northeast London, is trialling new uses for smart data. A data platform is being created to publish information on air quality in green spaces and buildings at the venue, to enable residents to manage their consumption and energy spending more effectively.
A similar experiment is under way in Greenwich with the European "Sharing Cities" programme, which is trialling energy management systems in social housing buildings, energy-saving lighting and controls, sensors and digital connectivity embedded in lampposts, and even autonomous delivery robots.
The mobility revolution
The London Datastore is also proving to be a valuable tool in the realm of transport. In addition to the "support" function provided through its infrastructure, TfL bases a significant proportion of its activity on technology and data management. Its open data portal and API allow developers to creative innovative products and services in various areas (journey planning, service disruption, maintenance works, prices, etc.). TfL estimates that the economic benefit from these applications may be £130 million per year.
One stand-out initiative in transport is Heathrow airport's ULTra (Urban Light Transport). Since 2011, this automated electric transport system akin to a robot taxi service has been running on its dedicated 3.8 km track. The service transports 800 travellers a day on average between the business parking area and terminal T5. The system of 21 podcars avoids 50,000 bus journeys around Heathrow every year.
For better road traffic management
London has long been battling the double challenge of congestion and road traffic pollution. The first large city to introduce congestion charging in 2003, London also created a restricted ULEZ (Ultra Low Emission Zone) in the city centre in 2019. Since October 2021, the ULEZ has been extended to include all areas within the North and South Circular Roads, an area far larger than Paris. The scheme is enforced using London's network of surveillance cameras.
But London Mayor Sadiq Khan intends to go further still, by adopting a "three-ring" road charging system across all of Greater London by May 2024 (£15 per day to enter central London, £2.50 for the "inner ring" and £1.55 for the "outer ring"). Charges from the inner and outer zones should raise around £400 million a year, which could be reinvested in public transport and road repairs. By 2030, the city plans to implement a "per mile" charge based on the distance driven.
Toward green energy
As part of its drive for more practical projects and achievements to create a more fluid, more sustainable city for its inhabitants, London has also tackled the issue of energy production. Its response has been innovative, to say the least, with new technologies harnessed to reuse residual heat from the Underground.
According to experts, this wasted energy could meet up to 38% of the city's heating needs. This led to the creation in 2021 of the Bunhill 2 energy centre in the London Borough of Islington. which currently powers 1,350 homes, a school and two leisure centres. Unlike its predecessor, Bunhill 1, which ran on gas, it does so without burning any fossil fuel, making it likely to avoid 500 tonnes of CO2 emissions annually. In fact, this makes for a double win, as passengers on the Northern Line, from where the heat is sourced, now benefit from cooler tunnels in the summer.
To accelerate its "smart city" strategy, London will be relying more than ever on its businesses. In return, they gain solutions to meet their needs and trial new technologies. This public-private partnership will bring tangible improvements to Londoners' quality of life in the areas of energy, environment, transport and healthcare.
13/10/2022