How London is accelerating its move to reduce pollution
Reading time: 6 min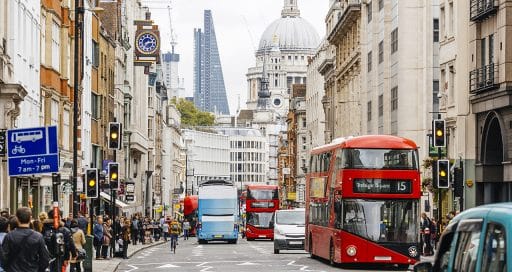 London, which in 2003 became the first large city to introduce a congestion charge, is stepping up its fight against air pollution. The city is introducing a very low emission traffic zone to discourage single-occupancy vehicle use and promote walking, cycling and the use of public transport.
Oslo and Madrid are planning to ban cars in the city centre next year. Copenhagen and Berlin are planning to build bicycle superhighways. San Francisco wants to ban cars on Market Street, one of the city's busiest thoroughfares. Paris is reducing traffic lanes for automobiles. These are just some examples of the steps being taken by cities alarmed by the health impact of air pollution to ban large automobiles that emit toxic gases. London is part of that move.
On 8 April 2019, residents and visitors discovered unusual traffic signs with the word "ULEZ" in London. The acronym stands for Ultra Low Emission Zone. Several hundred such signs now mark off the centre of London where only low-emission vehicles will be allowed 24 hours a day, 7 days a week. All diesel vehicles made before 2015 and all internal combustion vehicles made before 2006 will be banned from the centre of the British capital, subject to a £12.50 charge for every day they drive within the protected zone.
Cameras and subsidies
But all this is just a preview of what lies in store for motorists, motorcycle riders and chauffeur-driven vehicles in London. Starting on 25 October 2021, ULEZ will be extended to an area within the northern and southern ring roads that is far larger than the area of Paris.
To enforce. the new regulation, the London city authorities will use its network of about 1,000 CCTV cameras already installed throughout the congestion charge area introduced in 2003. However, the city, which aims to accelerate the transition to less polluting modes of transport, is also providing incentives. A £25 million subsidy is for example being provided to encourage SMEs with fewer than 10 employees to renew their fleets by acquiring cleaner vehicles. Ultimately, the city hopes the government will extend the programme to cover low-income households.
Immediate impact
The impact of the ULEZ was felt very rapidly, says London Mayor Sadiq Kahn. "Just one month after launching the world's first ULEZ … we have already seen a significant impact on the types of vehicles driving in the centre of our capital and polluting our air." First statistics show that an average of 9,400 fewer vehicles entered the centre of London every day in April compared to March. There were 36,000 fewer than in February 2017 when the ULEZ programme was announced, some motorists having apparently since then opted for cleaner vehicles.
The number of highly polluting vehicles within the zone fell from 35,578 in March to 26,195 after the new system was introduced. Nearly three-quarters (74%) of vehicles in the zone complied with the new pollution limits in April, compared with 61% the previous month.
The city authorities add that the majority of vehicles entering the ULEZ zone come from outside it. Consequently, the advantages of cleaner, more environment-friendly vehicles will be felt throughout London, as emissions are also reduced beyond the zone.
ULEZ is expected to help improve air quality for millions of people in London by reducing nitrogen oxide (NOx) emissions by up to 45%
ULEZ is expected to help improve air quality for millions of Londoners by reducing nitrogen oxide (NOx) emissions by up to 45%. These effects will be especially beneficial for children, young people, the elderly, people will respiratory illnesses and the inhabitants of highly polluted areas.
A comprehensive Zero Emissions plan
Receipts from the Ultra-Low Emission Zone will help pay for cleaner public transport. The city made a commitment to gradually introduce new hybrid, hydrogen or electric double-decker buses starting in 2018; to create 12 low-emission bus zones in some of the most polluted parts of London by the end of 2019; and to upgrade 5,000 older buses for lower emissions between now and October 2020.
ULEZ is only one of the many measures introduced by the city authorities to clean up London's air. Other steps include the Walking Action Plan targets an extra million walking trips a day by 2024; the Vision Zero Action Plan designed to reduce the number of road accidents and make streets safer for walking and cycling; and the Freight and Servicing Action Plan to encourage safe, clean and efficient freight in the city. The goal, as described by Mayor Sadiq Kahn, is ambitious.  "By 2041, all trips in London will be made on foot, by cycle, or using public transport," he says.
12/12/2019