Connected beehives come to the rescue of bees
Reading time: 5 min
Climate change and plant protection products are wiping out bee colonies all over the world. One of the solutions to this worrying decline for our ecosystems is a "smart" beehive which is being tested in New Caledonia by Axians and start-up Label Abeille.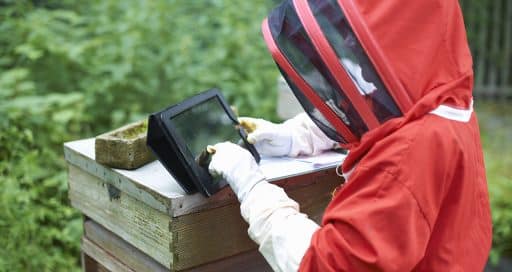 The disappearance of honeybees is a worldwide fact identified 30 years ago and referred to as CCD or Colony Collapse Disorder. The phenomenon is concerning, since the future of our ecosystems partly depends on bees. Without them, pollination can't happen. And without pollination, we won't have flowers, fruit or vegetables.
"The idea is to mix as much data as possible in order to provide beekeepers with relevant indicators"
As a result, engineers and ecologists are working relentlessly to design solutions and systems that will stem the decline. But faced with factors as dominant as climate change and the irresponsible use of insecticides, the task seems a mammoth one.
Generating a health check in real time
In the absence of a global response, micro-initiatives are springing up throughout the world, some of them involving unexpected processes. In New Caledonia, a test is being conducted into "connected beehives" by Axians ICT Nouméa, a VINCI Energies business unit specialising in data, in partnership with start-up Label Abeille, located in the Loiret department in north-central France.
The test is based on a smart box, which can be placed under any hive and which can evaluate hive-related data such as mass, temperature, light, orientation and geolocation thanks to a number of sensors. All of this information populates a bee "health check" in real time that can be accessed from a mobile application.
Any event requiring human intervention (harvest planning, hive cooling, removal of water supply, etc.) is relayed to beekeepers by a text or email alert so that they can take quick action and anticipate a colony collapse. Label Abeille is responsible for producing the connected base, while Axians collects and exploits the data.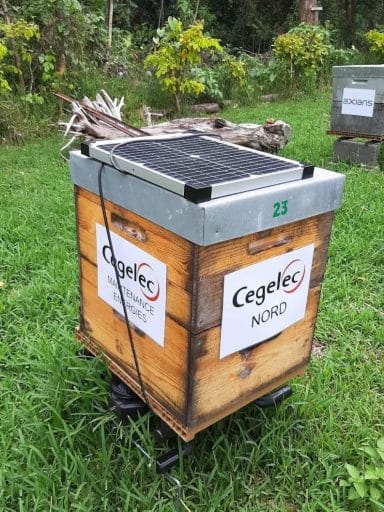 Maximising production
However, the action taken by the VINCI Energies business unit in New Caledonia goes further than the supply of the box and the processing of data generated by the connected beehive.
"We've sponsored beehives on Lifou Island and in Koné, and we've trained two employees on site. The idea is to mix as much data as possible in order to provide beekeepers with relevant indicators that help them anticipate tasks to be performed from day to day and that ensure a favourable environment for swarms, thus maximising production," stresses Luc Winyfred, manager of the Axians ICT Nouméa business unit.
Soon to be deployed in cities?
Axians aims, over time, to roll out its offering in cities. "We're still at the proof of concept and solution appropriation stage. Before we deploy the service more widely across New Caledonia and bring it to market, there are a couple of external barriers to be overcome," he adds.
The first barrier is connectivity. New Caledonia's telecoms operator needs to finish setting up and commissioning the 4G network throughout the territory, which should take another few months, and launch its LoRa network in 2022.
The second barrier is the cost of the service. The acquisition cost of the connected box is around €1,000 (not counting the GSM or LoRa subscription, or freight costs and data management fees), a sum that could put amateur beekeepers off. "We're looking for funding levers to help owners purchase the offering," points out Luc Winyfred.
Beehive GPS tracking
In New Caledonia, as elsewhere in the world, honey consumption is rising rapidly. The number of beehives installed in the territory has grown from 5,000 to 9,000 in a few months. "New Caledonia produces 127 tonnes of honey per year. Most of this is homemade, and supply is not yet meeting local demand since we import three tonnes of honey each year," explains the business unit manager.
Consumption is shooting up, and so too are prices. This inflationary trend is resulting in another phenomenon: beehive theft, which is also experiencing a massive rise. In this respect, the base developed by Label Abeille is proving invaluable. "The box is equipped with GPS. The slightest movement is tracked, so the beekeeper knows exactly where the hive is," says Luc Winyfred – a further argument that will support the adoption of these connected hives.
14/04/2022