Fibre spells the end of blackboards in German schools
Reading time: 3 min
The rollout of fibre broadband in 6 schools in the Cologne area has provided an opportunity for VINCI Facilities to install smart boards as a replacement for blackboards and chalk.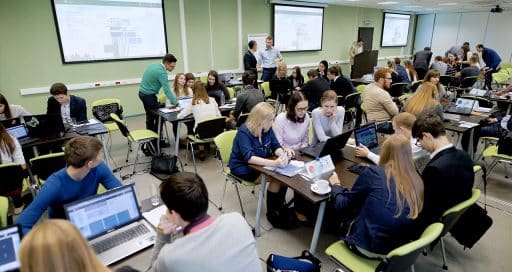 The town of Bergneustadt near Cologne in Germany has used a 25-year public-private partnership (PPP) with VINCI Facilities Solutions (VINCI Energies) to supply several of its school campuses with a bespoke digital network.
"The 6 schools covered by the contract have been equipped with superfast broadband in all the classrooms and Wi-Fi access throughout the campuses," says Michael Kneppel from VINCI Facilities Germany. "As part of the comprehensive solution managed by VINCI Facilities Solutions," he adds, "old-style blackboards have been replaced with interactive boards that connect to student and teacher screens."
Three figures give an idea of the scope of the project: 2,100m of optical fibre, 12,800m of copper cable and 282 double RJ45 sockets.
The PPP contract meant that the town did not have to go through a European tender procedure and as a result was able to choose a single partner for the whole project. This partner was VINCI Facilities which called on another VINCI Energies brand, Axians, to direct the entire programme. Axians drew up the schedule, a particularly sensitive aspect of the project, in agreement with the town and undertook all of the network installation work.
Strict coordination
The main project constraint was to fully complete the works during the school holidays so as to avoid disrupting lessons. In addition to the works on the network, VINCI Facilities Solutions and Axians had to incorporate into the tight schedule both routine maintenance activities and site clean-ups in-between operations. Overall, the project required "strict coordination between the various parties," insists Kneppel.
On the technical side, fibre was deployed in all the schools, and a set of distribution points installed. Cat7 copper cables running from these boxes connect with RJ45 jacks in each classroom. Cisco access points were also distributed in order to deliver full Wi-Fi coverage throughout the schools. To give an idea of the scope of the installation, 2,100m of optical fibre, 12,800m of copper cable and 282 double RJ45 sockets were used.
For both students and teachers, the most striking aspect of the school's leap into the digital age was the removal of all the blackboards and the shift away from chalk and dusters. Some 87 interactive digital panels have taken their place.
With these ActivPanel boards, teachers can now share their computer screens with students, who, in turn, can present their work. The upsurge of these digital tools in classrooms should support student training in collaborative internet-based practices – emerging skills which are highly sought after at a time when the health crisis has imposed remote working and learning. 
15/06/2021