Martinique to see its first eco-neighbourhood with environmental and social focus
Reading time: 4 min
The "Bon Air Ecoquartier Caribéen" eco-neighbourhood project, for which Getelec Collectivités is to deliver the dry utilities and street lighting, is built around two aims: to take into account environmental concerns and meet social inclusion needs. It will serve as a laboratory for sustainable urban renewal, set in the centre of Martinique's capital, Fort-de-France.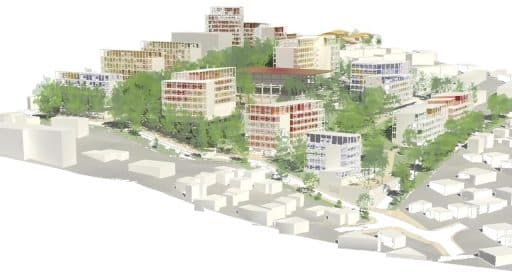 The Bon Air project, Martinique's first eco-neighbourhood in the making, which includes around 500 new housing units in a development offering multiple activities (green spaces, walkways, communal gardens) as well as a dedicated early childhood area, a toy library and cultural centre, seeks to fulfil both a social and an environmental ambition. The aim is to provide rented accommodation for predominantly low and very low-income households while minimising the project's environmental footprint.
The Bon Air mixed use zone project in Fort-de-France involves rebuilding an estate which dates from the mid-1960s and which was made part of a preservation plan in 2005. The three buildings that form the commonhold property (formerly council housing) have not only fallen into a state of serious disrepair but the whole site is exposed to a known and non-rectifiable seismic risk.  
"This first eco-neighbourhood in Martinique serves as a laboratory for future replications."
It was therefore decided, for the safety of residents, that the buildings would be demolished and that a new mixed-use neighbourhood would be built as part of a sustainable urban renewal initiative. What this means is that the project will have a low-environmental impact and will feature solar PV panels, the buildings will be oriented in such a way as to maximise solar gain and optimise insulation and ventilation, and rain water will be collected and stored, among other things.   
Energy performance and social support
The project's innovation lies in the combination of two objectives: energy performance and social support. "Of course, the eco-neighbourhood is about delivering sustainable construction, replanting the immediate environment, reducing energy use – especially carbon-based energy – and promoting self-generated electricity. But the original specifications are based, first and foremost, on providing access to high-quality social housing that supports age diversity and that creates building-integrated activities and services," says Yannis Baflast, CEO of the Bon Air simplified public limited company, the concession holder of the mixed use zone.
€50 million over 10 years
The overall project, set to cover a 10-year period, is worth a total of €50 million. Initial refurbishment works started in the first half of 2021.
VINCI Energies business unit Getelec Collectivités was selected to carry out the dry utilities and street lighting, including the installation and removal of electrical and telecoms ducting, the installation of transformer substations, electric vehicle charge points and retractable power bollards, and the deployment of 155 lighting points. The project is to be performed in three phases and programmed over three years.
"In its current configuration, the contract involving VINCI Energies Martinique and its business unit Getelec Collectivités is worth €1.5 million. It was important to play a part in the construction of Martinique's first eco-neighbourhood, which will serve as a laboratory for future replications," points out David Liénard, director of VINCI Energies Martinique.
"What's more, further packages should be opened up for bidding, particularly the PV aspect and building infrastructure," he adds.
14/10/2021