More data plus more AI equals lower energy costs
Reading time: 4 min
Manufacturers facing increasing pressure to reduce their energy consumption are turning to artificial intelligence for help. AI, IoT, data and the cloud are now at the heart of a profound transformation in production activity. We look at examples in Germany's tertiary and industrial sectors.
The European law on climate makes it a legal obligation to reduce CO2 emissions across the EU by at least 55% by 2030. The Union is also working on new legislation to make the EU climate-neutral by 2050. It seems fair to say that manufacturing – Europe's highest-emitting activity after transport (24.1% and 25.8% of emissions respectively) – has its back to the wall.
To meet this challenge, some manufacturers have turned to artificial intelligence, which by relating production data to energy prices, can offer multiple solutions for saving energy. This is all the more possible today, with access to software solutions such as Historian, capable of storing limitless quantities of data from all the sensors in a factory or building at negligible cost. These new opportunities are encouraging an ever-increasing range of solutions.
Autonomous management of HVAC systems
For example, Dabbel, a PropTech startup based in Düsseldorf (Germany), is using AI to develop self-learning building management software. This cloud-based tool connects to and superimposes itself on existing building management systems to generate energy savings.
Using AI, the Dabbel software takes account of factors such as the building's orientation and thermal insulation to automatically adjust HVAC (heating, ventilation and air conditioning) equipment. By sampling data every five minutes, it can react dynamically to changes in exterior and interior conditions and optimise its decisions. This predictive modelling application can generate energy savings of 25% to 40%.
Its customers include: an education group in Bergneustadt, Germany (37% energy saving), a clinic in Zirzach, Switzerland (33%) and buildings belonging to the German water distribution company Gelsenwasser (23%).
Decisions are constantly modified through self-learning
Another innovative solution is Kiona AI/Edge. This IoT platform based on a self-learning AI engine can be connected to any type of building. Thanks to real-time data collection, it can manage the inside temperature to optimise energy consumption.
Drawing on a database of more than 5,500 buildings, the platform constantly updates its decisions though self-learning, depending on the building's physical characteristics, the weather conditions and the indoor climate.
The Polish state railway operator (Polskie Koleje Państwowe) used the system to optimise energy consumption for its 16,000 sq. metre company headquarters in the historic former Gdańsk Railways Directorate building.
In a completely different scenario, StudierendenWERK, a state-managed non-profit organisation for student affairs in Germany, was able to make annual energy savings of 11.8% using Kiona AI/Edge.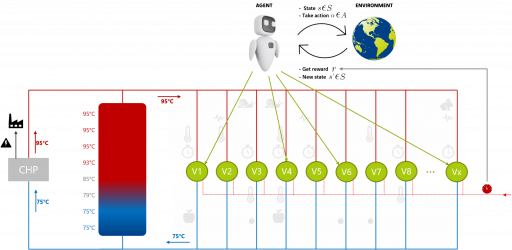 A digital twin to identify the optimal configuration
AI is also a useful aid in the most complex projects, as a major-league dairy business found when installing a CHP (combined heat and power) system designed to produce heat and electricity from natural gas.
Jeroen Pandelaere, Data Analytics Consultant at Actemium Beverage Aalter, the VINCI Energies business unit that also helped with electrical, mechanical and automation work during construction of the facility, explains that "With the help of a digital twin, we were able to advise the customer on the optimal configuration. This enabled them to reduce their steam consumption by up to 50%. Steam is expensive to produce, and they were able to replace it with hot water produced from cogeneration. We then designed a self-learning model able to constantly improve the cogeneration load balancing".
The consultant believes that AI is destined to become a key component in the transformation of industry. "Today, the small steps these early adopters are taking in the industrial sector are helping to build confidence in AI. But most of the current projects are supervised self-learning models that are not in core production processes. In the future, AI models and tools will slowly but surely find their place in production facilities".
 16/05/2023