The importance of data storage in the pharmaceutical manufacturing system
Reading time: 4 min
IT plays a crucial part in the drug and vaccine manufacturing process, from development right through to production. The vast volumes of data and the computing power involved in the process require considerable storage capacity. This article looks at the data centres of a French pharmaceutical manufacturing specialist, a major Axians partner.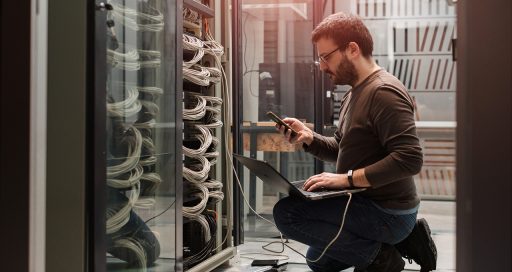 Axians has been working for over 15 years with a leading French drug and vaccine manufacturer. The VINCI Energies ICT brand is specifically involved in data storage, a highly strategic aspect of the pharmaceutical company's IT service. The manufacturer relies on Dell EMC and NetApp for its storage solutions.
"Computational clusters" are used to model the outcome of a vaccine on a given virus.
It's the NetApp technology that concerns Axians, which is one of just two companies in France to have achieved the highest level of the American storage provider's STAR certification.  
"We are suppliers of the technology, which has the advantage of offering two protocols within a single storage array, namely NAS (Network Attached Storage) solutions and SAN-style (Storage Area Network) architecture, which allow users and application servers to access large amounts of data in a shared storage pool," explains Gaëtan Garcin, regional director of Axians Cloud Builder.
Power and agility
According to the Axians specialist, the NetApp system offers many other benefits starting with high scalability, which makes it possible to adapt to the demands of massive data sets without changing operating system.
Today, these high-availability storage solutions already accommodate more than four petabytes of the pharmaceutical manufacturer's data. "The other advantage of the NetApp system is that it is highly resilient and available, enabling it to address any type of failure thanks to its capacity to easily switch to other data centres," adds Garcin.
Axians' first task for the client is to advise the group on architecture design, in particular by choosing the best technologies for updating the NetApp system so that it continues to run at optimum performance.
"Each year, our client adds several hundred terabytes to its storage system," points out the expert from Axians which, as well as looking after the central data centre, is also in charge of equipping local sites installed in the group's various factories.
Furthermore, the VINCI Energies brand provides all the technology needed for data provisioning via the public cloud. "In addition to central and local data centres, the public cloud helps meet ad-hoc or specific storage needs in a dynamic and agile way," states Garcin.
Computing power and basic research
There is a further area in which Axians, through its HPC (High Performance Computing) and AI business unit, is contributing its expertise and that is in-service support for the two European computing platforms dedicated to basic research on vaccines.
"We work continuously to improve the computing power of these machines so as to prevent any disruption that would be extremely damaging. The computational time for these platforms is several days or even several weeks, so any outage means a loss of productivity for all the researchers running different types of calculations simultaneously," explains Gaëtan Garcin.
The stakes are high, since these "computational clusters", collections of servers offering considerable compute power, are used for example to model the outcome of a vaccine on a given virus. These platforms use artificial intelligence to perform the groundwork, leaving just one or two candidate vaccines – the most promising ones – and thus shortening product development time, as exemplified in recent months by the speed with which Covid-19 vaccines have been developed.  
"In this case, our work involves optimising the architectures designed for the calculation codes created by researchers. This means that our data scientists are indirectly working on the client's core business," says the regional director of Axians Cloud Builder.
11/03/2021