Five urban hubs at the heart of Africa's digital transformation
Reading time: 7 min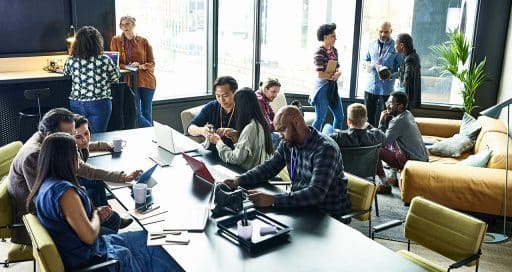 The creation in Ghana of Google's first AI research centre in Africa illustrates the digital transformation under way on that continent. The change is structured around a number of digital activity hubs, the most dynamic of which include Accra, Nairobi, Lagos, Cotonou, and Casablanca.
The opening of Google's artificial intelligence research centre in Accra, Ghana in 2019 bore out the city's determination to help spearhead the digital transformation of Africa. Alongside Casablanca, Morocco; Nairobi, Kenya; Lagos, Nigeria; and Cotonou, Benin; Accra is one of the activity hubs helping to accelerate the transformation in Africa.
The expanded use of Internet – especially mobile Internet – technology is paving the way to bridge gaps in Africa
The expanded use of Internet – and especially mobile Internet – technology offers a way to bridge technological, economic and social gaps that are partly due to a shortfall of infrastructure. The G7 meeting in Biarritz in August 2019 confirmed this and made a commitment to "provide strong support to bridge the digital divide and promote digital transformation in Africa."
The potential gains are substantial. According to the World Bank, digital transformation, if done right, can "increase growth by nearly two percentage points per year and reduce poverty by nearly one percentage point per year in sub-Saharan Africa."
Demographics and mobile Internet
In the context of accelerating digital transformation, the continent's population structure is an advantage. Half the population of Africa is expected to live in cities by 2050, up from one-third at present. Worldwide, 80 % of economic activity is concentrated in urban centres. The proportion of young people – an Internet native population – is also a positive factor: 41 % of Africa's population is under the age of 15.
The sharp increase in the number of internet-connected telephones explains the surge in social media accounts from 50 to 100 million since 2013, while at the same time over 200 million people entered the digital market, as noted by the United Nations Economic Commission for Africa.
Apart from its economic impact, the digital transformation should enable African governments to improve the standard of living of their citizens. Applications are already being developed in agriculture, an important sector that accounts for 61 % of the continent's jobs and 36 % of its GDP. Digital technology, and especially artificial intelligence, can also contribute to better addressing climate change.
Public private partnerships in Casablanca
All five leading-edge digital hubs take an approach that combines the public and private sectors. In Casablanca, Morocco, the economic capital of the Kingdom, the focus is on international partnerships, which play a major role in the e-Madina cluster, a concentration of companies working on the smart city project designed to "make the city of Casablanca more attractive, more efficient and more competitive for companies, citizens and visitors via public-private-citizen partnerships and the use of technology."
Also in Casablanca, the creation of Casanearshore reflects the city's approach. The 53-hectare site hosts about 80 companies operating in the offshore sector and constitutes Africa's largest business park to date. The park has developed a variety of projects centred on connected services including e-administration, e-government, carpooling, and digital services for company employees.
AI to detect disease in Accra
In Accra, the capital of Ghana, the digital companies had been taking part in government projects even before Google opened its artificial intelligence (AI) research centre. The American multinational had already contributed, alongside other companies such as BlackBerry and Mastercard, to the launch of the African Institute for Mathematical Science in 2012.
Moustapha Cissé, Director of the new AI centre, describes its research focus. Artificial intelligence will be used to "address the issues facing the continent, such as healthcare and agriculture." A Google engineer, Mohammad Nassar, says that "in some African countries, agriculture can account for 70 to 80 % of GDP, and a poor harvest can have very serious impact."
In addition, the researchers at the centre believe that with AI they will be able to "detect certain diseases that can affect the harvest ahead of time," for example by using smartphone applications to photograph plants and detect early signs of plant disease.
Applications of the same type could be developed to diagnose a number of human diseases, such as breast cancer. AI could also serve to improve communications among Africans, who speak nearly 2,000 languages, 250 of them in Ghana.
Paying by SMS in Nairobi
In Kenya, Konza City, south of Nairobi, is a substantial digital technopolis bringing together a number of digital giants including Google, Intel, IBM, Samsung, Nokia, and Microsoft, which have already set up offices there. Also known as "Silicon Savannah" and built on 2,000 hectares of former grassland, Konza City is now home to 250 startups, incubators, and universities. Its success is partly due to the exponential growth of mobile telephony.
Some 30 million Kenyans use their smartphone to access the Internet. Safaricom, the country's telecommunications operator, introduced SMS payment in 2007, which now handles more than $1 billion in transactions per month, according to the Wavestone consulting firm.
Thriving startups in Lagos
Lagos, the capital of Nigeria, is home to one of the five major digital centres in Africa: Yabacon Valley. The country on the Gulf of Guinea has also opened its doors to technology companies, starting with North American giants Google and Facebook, which has opened an incubator in the valley. Startups are sprouting like mushrooms in the Yaba neighbourhood, where all exchanges are networked.
Two successful platforms kick-started digital activity in Lagos: Jumia, an e-commerce subsidiary of Rocket Internet, and Jobberman, a job search platform. Building on its success in Nigeria, Jobberman is partnering with Microsoft to develop an ambitious regional job search project covering Kenya, Ghana, Rwanda, Uganda, Tanzania, and Ethiopia.
A new underwater cable in Cotonou
Like Lagos, Cotonou, Benin lies on the Atlantic coast. The location is important, since the landing points of the undersea cables serving the global Internet are located on this coast. Benin Smart City, a 12-hectare site, is currently being developed at the landing point of the new Ace cable.
Benin's first digital neighbourhood, in Cotonou, dovetails with "the new government vision of making the digital economy a breeding ground for development and combating unemployment." The Benin digital hub will be further strengthened with the creation of a future "capital of knowledge". Located 25 km from Cotonou, Sèmè City is being built in several stages on 200 hectares at Sèmè-Podji, an area located on the coast, 5 km from Nigeria. A first innovation campus, "Sèmè One", is set to open in Cotonou by the end of 2019.
20/02/2020